Past Event
Saturday, January 20, 2007, 10 p.m.
Mahogany Ridge Brewery & Grill, 435 Lincoln Ave., Steamboat Springs
21+ / $5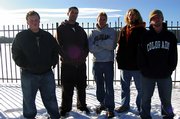 Steamboat Springs — The Tao Jones bassist Sean Mahaffey will celebrate his birthday Saturday night at Mahogany Ridge Brewery and Grill, and the whole band is bringing the party.
"We throw a hell of a party every time because we're not afraid to get down and dirty," said Jake Ball, The Tao Jones' trumpet player. "People will say afterwards that we killed it at the bar and (that) they partied all night."
But it's not all fun and games for band members. They recently went back into the studio to produce a new album.
"We just did the CD less than a month ago, and it still smells like a studio," Ball joked.
Each band member contributes to the songwriting - a blend of genres the band describes as "modern funk, jazz, electronic and 'zapped out' rock." "Zapped out rock" is a term coined by Frank Zappa.
"We bring the old with the new," Ball said. "There is an old jazz element mixed in with a modern day kind of sound."
"The horns bring a little bit of nostalgia combined with new electronic sounds. You can use any words you want to describe our music," Mahaffey added. "Our key focus is we like people to dance, move and shake it."
That message especially goes out to the ladies. Every member of The Tao Jones is single except for drummer Mark Mallaney.
"We're single and ready to mingle," Mahaffey said. "The more bodies there, the better the night will be. The audience is just as much a part of the music and definitely helps in the creative inspiration, and inspire us to play greatly."