Allison Plean
Allison Plean's column appears Fridays in the 4 Points arts and entertainment section in the Steamboat Today. Contact her at 871-4204 or e-mail
aplean@steamboatpilot.com
.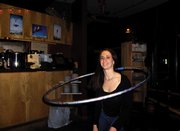 This New Year's Eve was the first one in my life when I had close friends celebrate on East Coast time. I don't know if that's a sign of age, wisdom or both.
All I know is, people in this town are very party savvy.
Over the years, I've noticed some differences in Steamboat parties that were absent in their urban counterparts I've attended.
I've had the opportunity to go lugeing down a frozen mountain stream in someone's backyard at an impromptu party one winter. You can typically expect an equal ratio of dogs to humans at any given gathering and - because of our small town's proximity - it was possible to hand deliver invitations to important guests all in one night.
I had given up house parties after my freshman year of college. Standing in dangerously pushy lines for tapped-out cheap keg beer was not for me. And you don't need to have someone passed out on your front door step for a party to be a success.
Steamboat Springs rekindled my willingness to go to house parties because of their creativity. How can you turn down theme parties such as: "ghetto fabulous," "James Bond" and "the missing character from The Wizard of Oz?" It seems everyone's closets have a special section for random costumes.
I consulted party headquarters, Celebrations Inc., to find out what has been popular this time of year.
"What's big this week is the Western theme," said Jasmine Marie, manager at Celebrations. "A lot of times, parties will be really similar to whatever the new Disney movie is for kids."
In the adult realm, Marie said murder mystery nights have been popular.
"After the new year, we had one party with about 30 people come in and rent costumes for that," she said. "Everyone is assigned a character and gets a card about the character they are playing, but only the murderer knows he's the murderer and the victim knows he's the victim."
Some of the more laidback local party varieties I've attended include wine-tasting parties, board game nights and the occasional business party that looks more like Art in the Park. That's where I received my craziest party favor - a $1,000 gift card from a realtor.
Party games in this town also run the gamut. I've been on scavenger hunts, played one-handed croquet and even played flip cup on a cooler while whitewater rafting down the Colorado River on a bachelorette party.
Now that all the holiday shindigs are over, it's time to celebrate whatever excuse you can find. Just remember to start cleaning up before bedtime and don't plan anything the night before a powder day. And if you are looking for a special costume, Celebrations has over 1,000 costumes in stock ranging in time periods from the cavemen to today.
Marie's favorite theme party is a "mystical party," where people dress up as faeries, wizards and characters from the movie "Labyrinth."
"People dress up as David Bowie, which is always a good time," she said. "All it takes is a wig, some spandex and a potato."