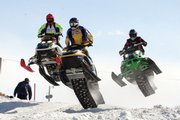 Steamboat Springs — The best snowmobile racers from across the region will go at it Saturday in Hayden during the biggest snocross race hosted in the Yampa Valley this winter.
Event organizer Phil Vallem said he expects about 70 racers in 15 race divisions to compete on the quarter-mile racecourse at the Hayden Speedway. With about 15 jumps built into the course, Vallem described the races as "motocross on snow."
The races start at 10 a.m. and run until 8:30 p.m. Vallem said the races usually are two-day events, but with the speedway's lights, they decided to host it in one day.
"It's not quite as extreme as the X Games, but it's darn near," said longtime snocross racer Michael Stoffle, who also is an event organizer in charge of technical checks. "There's big air, tight corners and lots of passing," Stoffle said. "It's really open at the Hayden Speedway, so there'll be a lot of big air."
Stoffle said the race is the first stop of the seven-race Mountain States Snowmobile Racing Series. The series includes events across Colorado and Wyoming.
"These are the best racers of the best," Stoffle said. "The next level is national races or the X Games. It's all heart and soul and people racing their best."
While Stoffle said the marquee Colorado Cup race (7:30 p.m.) featuring top professional and semi-pro racers will highlight Saturday's event, the races also will feature divisions for all ages and abilities. Even 4-year-olds will get to race in the Junior 120 division.
For Stoffle, the races are a "family affair." The Craig resident races in the Masters 40+ division, and his 9-year-old son and 13-year-old daughter also will race.
Although there is a beginner's division in every age group, Stoffle said the casual recreational snowmobiler must have the proper race equipment to participate.
Registration is still open and continues from 6 to 9 p.m. Friday at Hayden's Hiway Bar, 136 E. Jefferson Ave. The betting Calcutta will start between 8:30 and 9:30 p.m. at the same location. The Calcutta allows bettors to bid on one racer in each class and the opportunity to win the pool of bets placed in that class.
The cost to watch Saturday's races is $7 for adults, $5 for students and free for children 10 and younger.
For more information about the MSSR series and the sport of snocross, visit www.mssrracing.com.