Scott Stanford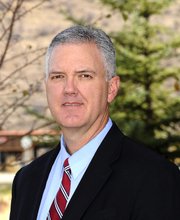 Scott Stanford is general manager of the Steamboat Pilot & Today. Call him at 970-871-4202 or email
sstanford@SteamboatToday.com
Hopefully readers have noticed our new feature "Last but not Least" near the end of the Steamboat Today.
Last but not Least is the brainchild of News Editor Meg Wortman. Meg started with the Pilot & Today in 2003, shortly after graduating from the University of Nebraska. Meg started as a copy editor, was promoted to lead copy editor in 2004 and to news editor in 2005. Meg leads our night editing team and news page design.
If you'll remember, I wrote last fall about adding feature content to the Today. Meg came up with Last but not Least as a way to get that content added.
Last but not Least runs daily on the next-to-last page of the Today. Usually, it is a full page of content (today is the first time in two weeks that is not the case). Last but not Least is broken into themes for each day of the week: Health Monday, Travel Tuesday, Fashion Wednesday, Celebrity Thursday, Food Friday and Gadget Saturday.
I really like the design and content of the pages. We hope to add more local content in the future, and Meg and I would love your feedback. You know where to reach me; call Meg at 871-4207 or e-mail mwortman@steamboatpilot.com
At Home
The third edition of At Home in Steamboat Springs, the lifestyle magazine we launched this year, went out Sunday. Home subscribers to the Steamboat Pilot & Today got a copy of the magazine with their newspapers; others can pick up a copy free of charge at racks throughout the county.
I especially enjoyed the "Rising Stars" feature in this edition. Magazine editors Brent Boyer and Allison Miriani have invested significant time giving the magazine the right look and the right features. I could not be more proud of what they have done.
The magazine is a quarterly publication. The spring edition is due out April 15.
Keeping the guide
Last week, I wrote about TV listings. If you'll remember, I asked readers what they thought of the daily and weekly listings. Many of you agreed with me that you never use the listings. However, just as many of you said you count on them.
So no worries - the TV listings are going to stay, for now. By the way - Comcast puts out a very detailed guide for Steamboat subscribers at Comcast.net.
Also, look for a daily Sudoku puzzle on the TV page before the end of the month. Many of you have asked for such a puzzle, and we got authorization to add it.
E-mail alerts
I want to make readers aware of a unique feature available on Steamboatpilot.com - e-mail alerts. Daily, we send a roundup of the top news via e-mail to anyone who asks for it. We also have breaking news and weather alerts that can be sent to e-mail addresses and cell phones. To sign up for this feature, simply visit www2.steamboatpilot.com/alerts/
No more Week in Review
Some of you may have noticed that we killed Week in Review, a Sunday feature that was a roundup of the past week's news from the Steamboat Today.
Week in Review started as a way to give out-of-town mail subscribers a look at the week's news since they can't get Steamboat Today mailed to them. But with the growing popularity of our Web site for daily news, the Week in Review began to seem more and more dated. Besides, the Week in Review often took precious space away from our ability to publish the day's top local, state and national news stories.
Scott Stanford's From the Editor column appears Thursdays in Steamboat Today. Contact him at 871-4221 or e-mail sstanford@steamboatpilot.com