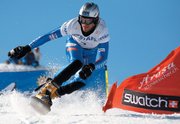 Steamboat Springs — Less than a second.
That's how close Steamboat Springs snowboarder Justin Reiter came to making the second round of the 2007 FIS Snowboard World Championships in Arosa, Switzerland, on Wednesday.
"Every run for Adam (Smith) and Justin was almost a tie," U.S. Ski Team snowboard coach Steve Persons said in news release. "They couldn't have been more than a tenth (of a second) out each time, but both of them qualified near the back of the pack, so they had to beat the faster guys in the early rounds, which is a tough road to go.
"But I'm happy with what I saw in this team over the last few days. We had multiple riders in the finals each day, and with a little tweaking here and there, this team will be on the podium regularly. Hopefully this will bring us confidence as we move back into the World Cup Tour."
Simon Schoch of Switzerland beat his brother, Philipp, in the finals to earn the World Championship gold medal. Rok Flander of Slovenia was third. The top American was Adam Smith of Bend, Ore., who finished 12th after getting knocked out in the first round by Flander.
Mathieu Bozzetto of France knocked Reiter out in the first round by just 0.16 of a second. Reiter finished 13th overall and was the No. 2 American. Tyler Jewell was 23rd, and Chris Klug finished 34th.
Austria's Heidi Neururer led an Austrian sweep in the women's finals. She beat teammate Marion Kreiner in the finals, and teammate Doresia Krings finished third. Stacia Hookom of Edwards was the top American; she finished eighth. Lowell Whiteman School graduate and former Steamboat Springs Winter Sports Club rider Michelle Gorgone was 18th, and Erica Mueller did not qualify for the finals. Other former Winter Sports Club members posting top finishes included Caroline Calve in 10th, Johanna Shaw in 24th and Kimiko Zakreski in 27th.
The parallel slalom was the final event for the Alpine riders at the World Championships.
It also was the final event for Hookom, who was the first female named to the U.S. Snowboard program after the 1994 U.S. Championships. During her career, she had 197 World Cup starts in giant slalom, parallel giant slalom, parallel slalom and halfpipe. She also was a member of seven World Championship teams and captured six national championships.
The 2007 FIS World Championships continue Friday with men's big air and will conclude Saturday with the halfpipe events. The World Cup schedule resumes Jan. 28 in Nendaz, Switzerland.