How to help
Donations for Dave Genchi may be made to the "Dave Genchi Recovery Fund" at any Wells Fargo bank. For more information, call Brandy Forsyth at 870-2075 or send checks to Wells Fargo Bank, P.O. Box 77488, Steamboat Springs, CO 80477.
To contact Dave Genchi, e-mail him at genchi@steamboatp..., write to him at Craig Hospital, Attn: Dave Genchi, Room 301B, 3425 S. Clarkson St., Englewood, CO 80113 or check out his work at rightskool.com.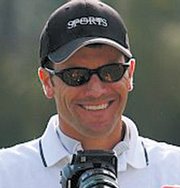 Dave Genchi's voice on the phone was a welcome moment for for Steamboat Powdercats manager Kent Vertrees.
"He sounded great," Vertrees said. "It was the first time I've been able to talk to him. I've been waiting for this moment for a long time."
Genchi, 32, a Steamboat Pow-dercats photographer and videographer, sustained a serious spinal injury Dec. 21 while snowboarding on Buffalo Pass. Genchi landed on his head and shoulder after doing a surf-turn off a rock. Genchi was wearing a helmet at the time of the accident, which cracked, but likely prevented more severe head injuries.
Steamboat Powdercats is a recreation company that takes skiers and snowboarders into the backcountry by snowcat.
After Genchi's accident, he was flown from Yampa Valley Medical Center to St. Mary's Hospital and Regional Medical Center in Grand Junction where he stayed until being flown to Craig Hospital in Denver on Jan. 9. Since then, Genchi has been taken off a respirator, is breathing on his own and beginning the slow process of rehabilitation.
Genchi's father, Al Genchi of Melbourne, Fla., said on Wednesday that his son's spirit is "indomitable" and that Dave has immediately become Craig Hospital's "star patient."
"Dave is an extremely active guy, so this has been a big shift in his perspective," he said. "He has definitely had a few periods, especially early on, but as most people will attest to, Dave's a driver."
Al Genchi said Dave's level of injury is a C6-C7, which means he broke the sixth and seventh cervical vertebrae in his spine. Genchi has no movement in his legs and limited mobility in his arms, Al Genchi said.
"Our family view is that we might not get all of it back, but we'll get some of it," he said.
Al Genchi and his wife, Mary Ann Genchi, have been traveling between Colorado and Florida the past few weeks. Al Genchi said he knows Dave is being supported by his friends in both areas.
"Dave is of two worlds: He has his soccer and surfing friends in Florida and his snow and ski friends in Colorado," he said. "Both of those worlds have just come together to offer him so much support."
Vertrees spent Tuesday skiing and snowboarding with the Vectra Bank All Mountain Ski Camp for adaptive skiers, which gave him some insight into what his friend is going through.
"We've done the ski camp the last three years, but (Tuesday) was really special because we got to spend time with the families and really find out where (Dave) is mentally, coming from their past experiences," he said. "It was phenomenal."
Some of the adaptive skiers attended a benefit for Genchi on Sunday at Steamboat Mountain Theater, where several of Genchi's ski films were shown. Admission was $2.
"That was a great success," Vertrees said. "We hope to do a more large-scale fundraiser for him in the near future."
- To reach Alexis DeLaCruz, call 871-4234
or e-mail adelacruz@steamboatpilot.com