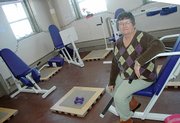 Hayden — Longtime Hayden resident Kathy Hockin says it has always been hard to stay fit. She thinks other Hayden residents feel the same way, and that's what prompted her to open Hayden's first commercial gym, Family Fitness Center.
"I've struggled with being physically fit and for years struggled to find what worked for me," said Hockin, whose professional career as a transcriber meant she sat in front of a computer screen for hours. "The formula is if you want to lose weight, you have to take in less than you use."
She ordered eight hydraulic resistance machines and opened the Family Fitness Center in the basement of the historic Solandt Memorial Hospital on Jan. 2.
"I just took a leap of faith and believed the community would support it," Hockin said. "I think they will."
Hockin wants to expand the Family Fitness Center to include a weight room. For now, she offers the equipment for 30-minute circuit routines.
She purchased the exercise equipment from the same company that supplies equipment to Curves fitness franchises. The routines are the same. People use each hydraulic machine for 30 seconds before moving to a "resting station" where a task is performed such as jogging in place or lifting weights.
"You can start out in poor physical shape, and you can work yourself up," Hockin said. "You can always challenge yourself."
Hayden residents have had limited options when it comes to workout facilities. Hayden High School allows the public to use its weightroom facilities and there are gyms in Steamboat and Hayden.
"There are quite a few people who drive to Craig and Steamboat, and it's a little more convenient to come home from work and then go exercise," said Hayden resident Patti Muhme, who said she is working off her membership to the gym by volunteering for Hockin.
To help relax the muscles after a hard workout, or to just relax, certified massage therapist Layne Booco is offering her services, Hockin said. She offers specialty massages like hot stone massage in addition to traditional treatments.
Hockin said Karen Massey would teach some classes on nutrition. Massey is the family and consumer sciences extension agent for Routt County.
"We really want it to be a family environment," Hockin said. "I have faith in our little community that they will support it."
The Family Fitness Center is open from 11 a.m. to 2 p.m. and 4 to 7:30 p.m. weekdays. Hockin will stay open if people are there. Family memberships are available. The phone number is 276-9025.
- To reach Matt Stensland, call 871-4210
or e-mail mstensland@steamboatpilot.com