Photo Gallery
Cold snap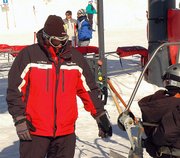 Cold puts brakes on driving
Antifreeze, batteries and engine heaters were popular items at the CARQUEST Auto Parts store in Steamboat Springs on Monday.
"This is very typical when it gets this cold," said Marge Vodehnal, who has worked at the store for more than 20 years.
The best piece of advice Vodehnal had for people who want their car to start on cold mornings is to be prepared.
"Make sure your car is winterized well before we hit December," Vodehnal said. "There are still people that aren't prepared for it."
To winterize your vehicle, have a mechanic examine the vehicle's belts, hoses and cooling system, Vodehnal said. She also recommended people consider installing a engine block heater.
Cold weather also takes a toll on bad car batteries.
"It only takes one or two days like this and it will suck it dead," Vodehnal said.
There are a few different options for heating a car's engine and fluids. The block heater is the best option, Vodehnal said. Block heaters plug into a normal household electrical outlet and use a nominal amount of electricity.
"Not only will it help your car start when it's sub-zero temperatures, but it also helps with the longevity of your vehicle," she said.
The added benefit of using a block heater is it heats up the engine coolant, which means the air coming from the heater will be warm from the moment you start your car.
Block heaters typically cost between $30 and $50, and it takes a mechanic about an hour to install. In Steamboat, mechanics charge about $70 an hour for labor, Vodehnal said.
Block heaters for diesel engines typically are more expensive. A diesel fuel additive that prevents gelling also is a popular item when temperatures drop below zero.
Steamboat Springs — Many Routt County residents had jumper cables at the ready Monday morning, and with overnight low temperatures expected to remain below zero for the rest of the week, it might be a good idea to keep those cables handy.
Monday's low temperature in Steamboat Springs was 22 degrees below zero, according to the National Weather Service. But many rural residents reported even lower temperatures, including 32 degrees below zero in Milner early Monday morning.
In Craig, the lowest recorded temperature Monday was minus-35 degrees.
Even that bone-chilling thermometer reading didn't come close to the state record - 61 degrees below zero, which was recorded in Maybell in 1985.
Cold weather can cause serious damage to plumbing systems, but there were no reports Monday of any major problems.
Jeffrey Herfurtner, owner of Jeff's Plumbing, said he received a lot of calls from people whose pipes had frozen or furnaces stopped working. But he said many people were prepared for the cold weather by installing heat tape or adding insulation where cold air was leaking in.
"After last year, everybody that had a problem learned they had a problem," Herfurtner said.
One cold morning in Dec-ember 2005, Steamboat thermometers read minus-37. Burst water pipes caused damage in buildings throughout the county, and some people were treated for frostbite and hypothermia.
That wasn't the case Monday.
Yampa Valley Medical Center spokeswoman Mindy Fontaine said the hospital had not treated anyone for hypothermia or injuries related to the cold weather. Steamboat Springs Police Det. Bob DelValle said Monday afternoon that officers had not responded to any calls related to the cold temperatures.
Routt County Emergency Management Director Chuck Vale said one of his biggest concerns when temperatures get this low is the risk of fire because people often use the wrong devices to thaw frozen pipes. Vale said residents concerned about their pipes freezing should install pipe-specific heating devices or leave the water running.
"Let your water drip is the best one I've heard," Vale said.
Many skiers and snowboarders braved the frigid temperatures to take some turns on the slopes Monday. The coldest temperature recorded by the Steamboat Ski Area was minus-21 degrees at 7:30 a.m. Monday at the Christie Base. By 1:30 p.m. it had warmed to 7.9 degrees, ski area spokeswoman Heidi Thomsen said.
She suggested skiers keep an eye on one another to help prevent frostbite. White spots on exposed skin are the first sign of frostbite, and Thomsen recommended that skiers and riders cover all areas of their face and bodies.
"Keep moving and warm up at on-mountain locations when (you) feel cold," Thomsen said.
Humans are not the only animals affected by cold weather.
At Del's Triangle 3 Ranch in Clark, ranch manager Perk Heid said he recorded a low overnight temperature Monday of minus-27 degrees.
"The animals are definitely a little cold and hungry, so we're feeding them a little extra food," Heid said, recommending that other livestock owners do the same.
School was out Monday in observance of Martin Luther King Jr. Day, and Steamboat Springs Superintendent Donna Howell said children should expect to return to the classroom this morning. The district typically won't cancel classes unless temperatures dip below minus-40.
Although there will be a gradual warming trend for the rest of the week, don't expect any significant changes, National Weather Service meteorologist Jeff Colton said.
"Pretty much more of the same," he said, adding that Friday's forecast calls for a high of 25 degrees.
- To reach Matt Stensland, call 871-4210
or e-mail mstensland@steamboatpilot.com