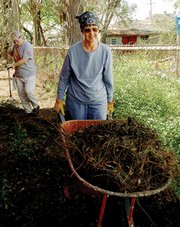 Hayden — For the second time, members of the Hayden Congregational Church, United Church of Christ, will spend vacation time in New Orleans helping victims of Hurricane Katrina.
"While it was one of the hardest working vacations we've ever had, it was one of the best we've had," said pastor Janet Babish, referring to the mission trip last March to New Orleans.
Babish's husband, Ralph Babish, went on the trip along with Hayden residents Betty Barnes, her husband, Bobby "B.J." Barnes, and Connie Todd. The group members decided in the fall they wanted to return.
"We just felt like we wanted to go back and see if things have gotten any better," said Betty Barnes.
Last time, they drove down in a van towing a trailer loaded with tools and supplies. This time, Babish said the group intends to fly so they can spend a full week working.
"I'm very anxious to see the changes and how people are getting along," Babish said.
Two or three other people are interested in going.
Janet and Ralph Babish's son, Trent Babish, is planning to go, along with his roommate Adam Garcia. Hayden UCC church members Gretchen Hayes and Chuck VeDepo and Craig UCC church member Bev Rubley will make the trip. New Castle Congregational Church of the Valley Pastor Jim Warn also plans to go.
More people also have expressed an interest in going, Babish said.
Last March, the missionaries spent most of their time cleaning and gutting houses.
"We especially want to see the two houses that we worked on and meet their families," Barnes said. "I really came away feeling like the little bit I could offer really made a difference."
She said they would be working with the UCC recovery team, but they do not know yet where they will be staying or what they will be doing.
"We're not sure if we're going to do more cleaning or if it will be more rebuilding," Barnes said.
The group will collect donations to help pay for the trip and to assist Hurricane Katrina victims.
Checks can be mailed to the Hayden Congregational Church, PO Box 1284, Hayden, Colo., 81639. Please note on the check the money is for the Katrina trip.