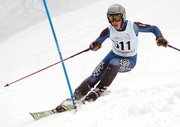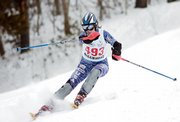 Steamboat Springs — The Steamboat Springs High School ski team earned fourth place in a giant slalom event Friday in Aspen, despite missing two key team members.
"It was a pretty good finish for our team," Sailor coach Chad Bowdre said. "Especially since Ian Landy didn't make the trip, and Kris (Allen) fell in his first run."
Instead, it was Steamboat's Jimmy Hostetler who led the charge for Steamboat. He finished fifth with a combined time of 1 minute, 21.34 seconds.
Aspen's Wiley Maple won the race with a time of 1:17.11 and was followed by a pair of racers from Summit County.
Other Steamboat racers turning in good times included Wiley Thayer in 11th at 1:23.93 and Ben Paley in 18th at 1:26.68.
The coach said the team had to play it safe in the second run after Allen fell in his first attempt. The squad also was without Landy who elected to skip this race. Without those top skiers, the team relied on Hostetler, Thayer and Paley to boost Steamboat to fourth behind first-place Summit, second-place Aspen and third-place Battle Mountain.
Bowdre was happy with the final results, but he feels like Steamboat could be finishing even higher in these events.
"We've had a lot of great runs this season, but for some reason, we haven't been able to put two together consistently," Bowdre said. "We need to focus on putting together two solid runs. It's that simple."
But while the coach is frustrated by the lack of consistency between runs, he has been pleasantly surprised by the progress of several skiers.
Steamboat got solid showings from freestyle skier-turned-Alpine racer Max Pensack, who raced to 49th, and Lars Berglund who placed 58th. Taylor Smith was 67th and Hunter Willis placed 70th.
While the Steamboat boys are looking to improve on strong finishes, the young Steamboat girls are concentrating on continued growth. In Aspen, Steamboat proved it's moving in the right direction by putting five of the team's skiers in the top 25.
Leading the charge was freshman skier Erika Walters who finished 20th with a time of 1:30.76. She was followed by teammates Jamie Gay and Anna Anderson who tied for 21st. Steamboat's Hanna Berglund was 23rd, and Sarah Dixson placed 25th.
The girls finished sixth in the team results. Summit was first, Aspen was second and Battle Mountain was third.
The teams will head to Loveland on Friday for the fourth race of the season - a slalom event.
- To reach John F. Russell call 871-4209
or e-mail jrussell@steamboatpilot.com