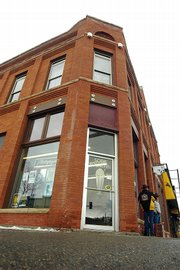 Steamboat Springs — The scaffolding is down and the Maxwell/Squire Building at Ninth Street and Lincoln Avenue in downtown Steamboat Springs has returned to its original glory.
"It shows this work can be done," said Arianthe Stettner of Historic Routt County. "You have a willing property owner who is a steward of a historic property."
Work began in June to completely restore the exterior of the building and the job is nearly done. Crews will wait until it warms up to replace the Lyon's Drug corner entrance. Some 14-foot windows still need to be installed. The windows will resemble the large windows that were originally a part of the building when it was built in 1908.
Steamboat resident Frank Hogue now owns the building with his three brothers. Before that partnership was formed, the building was owned by his mother, Margaret Hogue, who in 1995 applied for and obtained National Register of Historic Places status for the building.
Frank Hogue said the restoration would end up costing about $500,000.
"One reason why we got it done now was because in 10 years, it will probably cost $1.5 million," Frank Hogue said. "The bricks were getting loose, and with what's going on downtown, we wanted to keep it historic."
Frank said he hopes to finance a restoration of the building's interior in the future.
"We'll keep it for a long time," Hogue said. "That's the plan."
J.D. Maxwell built the building with native sandstone and bricks from the former Trogler kiln near Fish Creek. Some of the original bricks needed to be replaced, which ended up being one of the biggest challenges for general contractor Tyke Pierce with Tyke Pierce Construction. The original brick that was used was longer and thicker than usual.
"We went through probably 35 to 40 brick samples to find the right one," Pierce said.
Every original brick that did not need to be replaced was sanded by hand. All of the stucco was removed and mortar in between the bricks was removed and replaced to help ensure the building would stand for another 100 years.
Pierce said he used old photos and newspaper articles to help him restore the exterior to its original state. He said the Hogue family members should be commended for their commitment to restoring the building.
"It's a pretty large undertaking," Pierce said.
Stettner said the commitment by the Hogue's has inspired some other owners of old downtown buildings to consider doing similar restorations.
"There are some people who say it's impossible to preserve a building, but we do have people in Steamboat who do believe in doing the right thing," Stettner said.