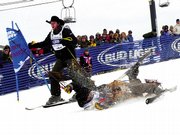 Steamboat Springs — One team's disappointment is the Steamboat Ski Area's gain.
The Denver Broncos' failure to make the NFL playoffs created an opening in their cheerleaders' schedule, and Steamboat jumped at the chance to bring members of arguably Colorado's most beloved team to arguably Steamboat's most beloved event - the Cowboy Downhill.
"It's a collaboration between the resort, Anheuser-Busch and the Denver Broncos organization," said Heidi Thomsen, public relations manager for the Steamboat Ski and Resort Corp.
The 33rd annual Cowboy Downhill begins at 1:30 p.m. Tuesday on Headwall. Spectators are encouraged to line up along the course or watch from Gondola Square.
The event begins with a dual slalom race. Cowboys wearing the requisite chaps and cowboys hats will race down Headwall on skis or snowboards, lasso a Broncos cheerleader, saddle a horse and cross the finish line.
The fastest individual time wins.
In the past, cowboys have lassoed a Steamboat Ambassador, but this year the cowboys will lasso a cheerleader.
All cowboys participating must be card-carrying members of the Professional Rodeo Cowboys Association, which means those skiing or snowboarding usually have more experience in a rodeo arena than they do on the slopes.
The inexperience often creates big laughs and even bigger spills.
The Cowboy Downhill is held in conjunction with the National Western Stock Show, which is currently going on in Denver.
The Cowboy Downhill began in the 1970s when Larry Mahan, a six-time World Champion cowboy, teamed up with Billy Kidd, Steamboat's director of skiing, to invite several PRCA stars to Steamboat for some skiing and racing fun.
The event has become a Steamboat Ski Area staple, mixing real skiing cowboys with its Western Heritage.
"This is one of our signature events," Thomsen said. "People ask us all the time, 'When's the Cowboy Downhill?' It's so popular. People can walk up and watch it, and we've been able to keep it true to its roots."
The ski area tapes the event and ships footage across the country to places such as CNN, The Weather Channel and ESPN.
"We have so many stations ask for it," Thomsen said. "So many people think it's so unique."
The Cowboy Downhill wraps up with a mass-start stampede, pitting all the cowboys against each other in a winner-take-all race down Headwall.
Other festivities Tuesday include a Western celebration with live animals.