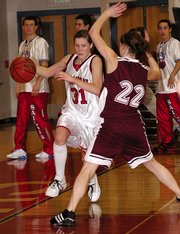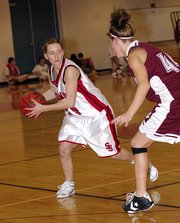 Steamboat Springs — Two halves. Two different teams.
And if Steamboat Springs girls basketball coach John Ameen can take anything from Saturday's 55-37 loss to Palisade, it's that the Sailors' performance in the first half proves they can compete.
In that first half, Steamboat was crisp and looked poised to get its first win of the season.
The Sailors headed into halftime leading, 24-22, had four more field goals than the Bulldogs and probably should have been ahead by more if not for sending Palisade to the free throw line 18 times in the first two quarters.
"The first half went well, even though we did have a two-minute stretch where we did self-destruct," Ameen said. "The second half we just went away from things that worked."
But by the time the second half hit, the Sailors' season-long problems of turnovers, rebounding and sloppy play emerged.
"They came out in the second half and absolutely were flat," Ameen said. "No urgency. No intensity. They pressured us and we went away from everything that made us successful in the first half."
Early in the game it looked as if the Sailors' slow starts would bite them again. Palisade jumped out to a 6-0 lead before Steamboat calmed down and started working its offense. Led by three 3-pointers from senior Shannon King, the Sailors took a 13-9 lead into the second quarter.
Palisade made a run to start the second and took a four-point lead before back-to-back-to-back buckets by Colleen King and Gracie Stockdale pushed Steamboat ahead, 24-22, at halftime.
In the second half, the inside game of Palisade took over. Behind the play of Bernadette Pitre and Sarah Hays, the Bulldogs took the lead for good at 28-26 with 5:33 left in the third quarter.
"We had no one who could box (Pitre) out on the boards," said Ameen, whose team was outrebounded 40-27. "I don't know how many boards she had inside. That just killed us. I haven't said too much that one person killed us, but she killed us. If she was not on the floor it's a totally different game."
Pitre and Hays combined for 35 points and 24 rebounds for Palisade.
Shannon King brought the Sailors within seven, at 38-31, to begin the fourth quarter, but Steamboat would not get any closer.
Shannon King led the Sailors with 13 points, five rebounds, three assists and three steals. Emily Stockdale added nine points,
and Gracie Stockdale had seven points.
The Sailors next play at 6 p.m. Friday against Eagle Valley at home.
- To reach Luke Graham, call 871-4229
or e-mail lgraham@steamboatpilot.com