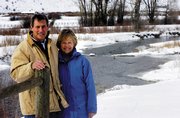 RICD redux?
The City Council's consideration of a watershed protection ordinance reminds at least one rural landowner of a two-year public debate that began in 2003, when city officials filed for a water right known as a recreational in-channel diversion on the Yampa River.
Finalized in October 2005, the city's RICD allocates water flows for recreational use on the Yampa through downtown Steamboat, from April 15 to Aug. 15 every year.
Several Routt County ranchers opposed the RICD for fear of over-regulation on the Yampa, and criticized city officials for not communicating with rural county residents.
"Certainly the city's approach in the in-stream rights case was not very inclusive of other stakeholders, to say the least," rancher Allan White said Wednesday. "That left a bad taste in a lot of people's mouths."
But Steamboat's water attorney, Glenn Porzak, noted that the RICD may have already benefited the city by securing a water right on the Yampa, which a Front Range water district is eyeing for a possible trans-mountain pipeline.
"Isn't it interesting that a year after the RICD, there is the possibility of a trans-mountain diversion, and isn't it interesting that they are going all the way down to Maybell?" Porzak said. "If there wasn't a RICD, I would venture to guess (the district) wouldn't be going that far downriver - already, we've seen the value of the RICD in making sure water keeps going through the city."
Steamboat Springs — Opinions about an ordinance intended to protect Steamboat's water quality are moving faster than spring runoff in the Yampa River.
The ordinance that began as a little-noticed agenda item at a Dec. 19 Steamboat Springs City Council meeting is stirring a flood of debate among rural landowners, county officials and city attorneys.
The proposed ordinance would create a new chapter in the city's Revised Municipal Codes, to increase regulations regarding water-related activities in rural areas that affect Steamboat's water supply. Ranchers are calling the regulations "draconian," unnecessary and excessive, but authors of the ordinance, including water attorney Glenn Porzak and city attorney Tony Lettunich, say current ranching activities would not be affected by the ordinance, which would primarily give Steamboat a valuable tool to regulate future large-scale construction projects in Steamboat's watershed.
After an outcry from landowners requesting a longer public process, the City Council tabled the ordinance last month and will address it Tuesday. The council also plans to discuss the ordinance with Routt County commissioners Jan. 30 in February.
"(The ordinance) has the potential to regulate a lot of ranching activities that landowners feel are unnecessary to be regulated, and are already regulated by other entities - for example, cleaning irrigation ditches, plowing, using herbicides and maintaining (water flow-regulating) headgates," said C.J. Mucklow, director of the Routt County Cooperative Extension Office and president of the Routt County Cattlemen's Association. "There are some really mad people out there."
The ordinance would apply to three areas, each covering a five-mile radius around current and future city water supplies. The areas surround the city's Fish Creek Municipal Water Intake, near Fish Creek Reservoir and Long Lake east of the city limits; Steamboat's Municipal Well A, south of the city limits along portions of Colorado Highway 131; and a future water diversion on the Elk River northwest of the city limits.
State law allows Colorado municipalities to enact regulations protecting water supplies in areas outside of a town's boundaries.
"These kinds of ordinances are not new or unique," said Porzak, Steamboat's water attorney and a partner in the Boulder firm of Porzak, Browning & Bushong. "Many communities around the state - such as Crested Butte, Golden, and Grand Junction - have adopted watershed ordinances. It allows the water provider to regulate certain activities and prevent pollution that would adversely impact the water supply."
Too much?
The amount of "certain activities" listed in the ordinance has local ranchers worried.
If enacted, the ordinance would require landowners in the designated areas to obtain a permit from the city, with a possible fee set by the City Council, for activities including: "Excavation, dredging, filling, grading, or compaction of any topsoil, sand, rock, dirt or other material; use of any pesticide, herbicide : or any other chemical for eradication or control of any plants or animals; removal of any vegetation or trees by any method; alteration, improvements or modification of any watercourse; (and) dumping, depositing, or discharging any pollutant into any watercourse."
All regulations would apply to areas of more than half an acre, the ordinance states. Regulations apply to all activities within 100 feet of any watercourse, regardless of acreage.
"We believe that such an ordinance, in its current form, could have substantial negative impacts to residents in the unincorporated portions of Routt County lying within the designated watershed areas, particularly agricultural operations," reads a letter signed by all three Routt County commissioners and sent Tuesday to the City Council.
Local attorney Michael Holloran, who lives and owns land on Colorado Highway 131, called the ordinance "draconian" at a recent City Council meeting.
"This shouldn't be done with an atom bomb approach, and that's the way I read this ordinance," Holloran said Wednesday. "It just blasts everything. The first thing we have to do is identify what we're trying to protect."
"Certainly we all want to protect the water supply, but this seems a little far-reaching," said Allan White, who ranches cattle and hay on 145 acres on Routt County Road 35, south of Steamboat. "It seems a little unrealistic to go after the group that probably practices the best policies for protecting water of anybody in the valley. I don't have a lot of faith that city staff has any understanding of what you do on a ranch."
Or not enough
Both Porzak and Lettunich said increasing regulations for local ranchers is not the intent of the ordinance - which has a significant "grandfather" clause protecting current agricultural activity.
Porzak said a future draft of the ordinance will emphasize that point.
"Further language will be added to ensure that this does not adversely impact reasonable ranching operations," he said.
Lettunich said the ordinance is "prospective, for new activity and different activity."
"This is primarily geared toward major construction and major impacts to the water quality," said Lettunich, of Lettunich & Vanderbloemen Attorneys in Steamboat.
Porzak and Lettunich cited a recent study commissioned by the Northern Colorado Water Conservancy District, which includes eight counties on the Front Range and in northeastern Colorado. Last summer, the district hired international engineering and consulting firm Black & Veatch to explore construction of a pipeline to carry Yampa River water from reservoirs near the Moffat County town of Maybell to Barr Lake, northwest of Denver International Airport - a distance of about 250 miles, requiring tunnels beneath the Continental Divide.
In a report released last month, Black & Veatch detailed three feasible pipelines, each costing a minimum of $3.8 billion and requiring at least 17 years to complete.
"Two of the three proposed corridors go right through the middle of these areas," Porzak said Friday, referring to watershed regions north and south of Steamboat. "This (ordinance) would be a way to regulate the pipelines, pumping plants, and all the bells and whistles : it would give the city of Steamboat a chance to make sure that construction activities associated with the project would not degrade the city's water supply."
Colorado law allows counties to adopt regulations known as "1041 permit authorities," which Porzak said allow counties to regulate "activities of statewide interest."
"Number one of those activities is major water projects," Porzak said, noting that Eagle, Summit, Grand, Pitkin and Boulder counties all have 1041 regulations.
"Routt County has never adopted 1041 regulations," Porzak said. "If someone is a trans-mountain water diverter, they currently do not need any approvals from Routt County. Without a watershed protection ordinance, they would not need approval from the city of Steamboat Springs. Relatively speaking, the Yampa River is regulation-free."