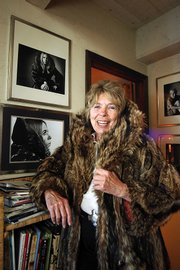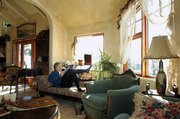 Steamboat Springs — The year was 1970, and Steamboat Springs was a mix of cowboys and hippies, until Irene Nelson drove into town with her four kids, a cat and a dog.
"She had the longest pigtails and shortest shorts," said Ronni Connelly. "Nobody had ever seen anything like it."
Nelson and Connelly would become neighbors, starting a friendship that has lasted 37 years. On Wednesday, Connelly, who was back in Steamboat visiting after moving to Guam, was more than willing to talk about Nelson.
She praised Nelson's generosity - hosting Thanksgiving dinners for 70 people - and her interior design vision - incorporating distressed wood and concrete countertops decades before anyone else in Steamboat was doing the same.
"She's amazing with her ability to see things," Connelly said.
But perhaps Nelson's greatest vision was seeing Steamboat as the ideal place to raise her children and start a new life after a divorce.
Tired of "suburbia," Nelson packed a garbage truck and biscuit truck in 1970 and drove from Chicago to Steamboat, a place Nelson selected because one woman on a ski lift in 1968 in Vail said "Steamboat," when Nelson asked her to name the top ski resort to raise children.
"It was a huge change for us," said Cindy Arnis, Nelson's youngest daughter, who runs White Hart Gallery in Steamboat. "We had a pretty good life in Chicago. We moved here, and it was pretty much starting all over again. : It was a real cowboy town. We were country-clubbers, so we weren't sure where we fit in."
But Nelson, now 71, fit in well.
Nelson became a ski instructor, a job she held for 32 years, earning her a lifetime ski pass at the Steamboat Ski Area. Nelson became a sought-after instructor, particularly for adults.
"I was good at teaching adults because I understood the fear factor," Nelson said. "I was a good instructor, but I was never a good skier."
But Nelson has become great at two things while in Steamboat - hosting others and interior design.
Locals may have heard the story about Nelson hosting 70 people for a potluck Thanksgiving dinner, including the University of Wyoming Ski Team. She moved all the furniture from her home onto the snow outside and brought in tables.
"Everybody has had Thanksgiving dinner at my house," Nelson said. "Or they've worked for me."
Nelson has since moved into her home in Fairview, which she built for $40,000 on a $6,000 lot near Howelsen Hill.
It doesn't appear large from the outside, but the front door opens to a multi-level home filled with books and plants and photographs.
"I designed this house," said Nelson, an interior decorator for more than 40 years.
The house is in the midst of a redecoration that has been ongoing for 14 years, Nelson joked. Her slow progress on her own home is because she is busy decorating, designing and enhancing homes for others in the Steamboat area.
But she doesn't have a degree in interior design. Actually, she had no formal training at all.
"I'm self-taught," Nelson said. "You can tell with all the magazines around the house. If you want to learn something, the means to learning something is all around without going to school."
Nelson has loved art since attending Crow Island Elementary School in Winnetka, Ill. The progressive, public school encouraged art, and Nelson flourished. It was the only educational experience, other than her own lessons, that she raved about.
She still uses elementary school materials - paper mache on floors and tissue paper on countertops. They are beautiful and durable.
"Paper is one of the strongest materials in the world," Nelson said.
If so, it is much like Nelson, who shared that sense of independence with her children. Two daughters, Arnis and Kari Nelson, who married Dave Kane, owner of Double Z, still live in Steamboat.
Nelson's three grandchildren, Katie, 11, and Tristan Arnis, 9, and Nelson Kane, 16, are active Alpine ski racers with the Steamboat Springs Winter Sports Club.