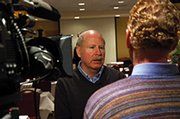 Steamboat Springs — The dangers of climate change aren't apparent while you're riding a chairlift staring at a foot of fresh snow.
But Dr. Sandy MacDonald, director of the National Oceanic and Atmospheric Administration Earth System Research Laboratory, argued that the dangers are still there. Last week, MacDonald talked about the importance of education and observation in the continued effort to predict what could happen if the earth's climate changed. He hoped climate change models would become more accurate and of higher quality similar to the advancements in predicting weather.
"It's very complex, but a very important issue for mankind," MacDonald said.
MacDonald was in Steamboat Springs as a presenter during the 18th annual Weather Summit held at the Steamboat Grand Resort Hotel. More than a dozen scientists and meteorologists from across the country were on hand for the weeklong summit.
Scientists agree the earth's average temperature is increasing, but they disagree on how much the temperature may increase this century. Early next month, the Intergovernmental Panel on Climate Change will convene to come up with an updated consensus on projected temperature changes for educational purposes.
MacDonald expected the consensus to be between two and four degrees this century.
Locally, the dangers of climate change are in reduced precipitation or a longer period of rain compared to snow, which would affect recreation, ranching and the livelihood of the Yampa Valley.
Nationally, the dangers are in less water for consumption, an increase in forest fires and an increase in hurricane strength.
Globally, the biggest danger would come if the Arctic snow melts, which would raise water levels, affecting the acidity of the ocean and drowning the world's lowest lying cities such as New Orleans and Miami.
MacDonald provided a long list of climate change ramifications Tuesday. He reiterated that models are increasing in accuracy and scientists are confident in their findings, but predictions are made without certainty.
Still, MacDonald said it would be irresponsible to ignore the dangers of climate change simply because no one is certain how severe it might be.
"If you tell someone a hurricane is coming and it really is coming, is it hype?" MacDonald asked the summit participants. "The question we have to look at is how real are these big dangers? That's where our research community comes in."
MacDonald likened the world to a person wandering near a cliff in a blizzard. The person knows the cliff is there, but he can't see it. He may never come close to walking off the edge; he may come dangerously close to walking off the edge; or he may walk off the edge.
There is no guarantee, but there are known risks, and it would be foolish for the man to risk his life to find out how close he could come to the edge.
"If these dangers are inherent, we really need to find out," MacDonald said. "I think it's a wise investment. We would prevent heart disease and cancer if we could."
MacDonald is a proponent of increased observation tools such as buoys in the oceans and using more unmanned aircraft for measuring, but he wants the tools used worldwide because climate change is a global issue.
"The bottom line is we need big improvements in climate prediction," MacDonald said.
The city of Aspen has taken steps toward researching regional implications of climate change, but John Katzenberger, director of the Aspen Global Change Institute, a nonprofit organization in Aspen, warned against believing everything you hear.
"The climate models that can project future climate for the world are working at the global scale," he said. "When you try and get information on a regional or local scale, it gets increasingly difficult."
Like MacDonald, Katzenberger said several scenarios could happen and some - like the release of massive amounts of carbon dioxide into the atmosphere should the plants that are buried in Arctic permafrost melt - are out of human control.
Other prevention means, such as the utilization of renewable energy sources as well as the responsible and efficient utilization of other energy sources, would be beneficial.
"The positive story there is if (we) lower carbon dioxide emissions now, environments will be preserved closer to where they are now," Katzenberger said. "If we let it go, then the models indicate much more drastic impacts. Let's all work together with the world."