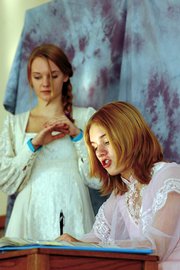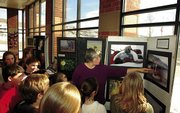 Oak Creek — Soroco High School senior Maggie Crulo never thought a photo of a leaf could incite so many reactions from viewers.
"Oh my God, I can't believe how people have reacted to that photo," she said. "I love it because you can really see all the colors of the leaf - the orange and red and yellow. It just turned out awesome."
Crulo's photograph - a vibrant, unaltered image of an aspen leaf on a background of fresh-cut grass, was one of hundreds of South Routt student photos featured in "Living Legacies: A View of a South Routt through a Creative Lens." The exhibit uses photography to capture historical elements of the South Routt area.
On Wednesday, the high school's photography students presented their work to the rest of the student body and community members. Also as part of the exhibit, a group of drama students performed a series of historical vignettes based on legendary figures that lived in the South Routt area during the first part of the 20th century. Those figures included Evelyn and Marguerite Pidcock, Margaret Rossi and Doc Cole.
Art teacher Karen Bertollini said the exhibit was the culmination of several months of teaching the art of photography and spending time walking the streets, railroad yards and ranches of South Routt.
"I had this idea going into it of what everything should look like - it turned out to be so much more," she said. "This show is a more personal way of how the kids see their land, their worlds."
Many of the photographs, including Crulo's popular aspen leaf photo titled "Fall," could have been shot by professional photographers, she said.
"As far as I'm concerned, there is a lot of really well-done, professional-level work here," she said. "I'm so impressed by the visions they had of what they saw."
Senior Jeff Connett said he was surprised at how rewarding the photography class has been.
"Taking photos was a way for us to get outside and chill with nature," he said. "There are so many different things to capture with a photo lens."
Connett said he took hundreds of photos daily before finding one he really liked.
"We walked around, would take the photo from all kinds of different angles and varieties before you found that one," he said.
Offering a photography class at Soroco High School was made possible by a grant from the Legacy Education Foundation of Steamboat Springs, which allowed Bertollini to purchase four digital cameras and a high-quality Epson printer. It is the first time photography has been offered at Soroco.
Like the photography students, the drama students shared their vision by embodying some of the historical figures that shaped the area.
"They say a picture is worth 1,000 words, and with these vignettes you get a chance to hear some of the words that accompanied these photos," drama teacher Valerie Broadbent said.
Students began the vignettes by posing for a photo in authentic costumes, explaining why and when the photo was taken and reading an excerpt from "South Routt's Diary."
Broadbent said the theme of depicting South Routt's history through photos and vignettes is fitting because Oak Creek is celebrating its centennial this year.
"It all ties together," she said.