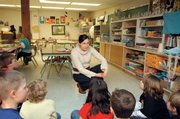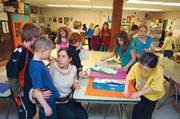 Steamboat Springs — Steamboat Springs teachers and staff members consistently identify salaries and benefits as two of the most important issues facing them.
The hope is that both issues will be addressed through a voter-approved mill levy that will raise $600,00 or more a year for the next eight years.
Referendum 3C will generate $600,000 this year and will increase annually until it caps at $800,000 in 2015. The issue was sold to voters as a way to help the high-achieving school district attract and retain the best teachers and staff.
But few specifics about how to spend the money were decided before the election. Now, the district's Collective Bargaining Team, which has representation from the School Board, district administration and staff, has begun meeting to decide how to spend the money.
CBT member and School Board President Denise Connelly, a former teacher, said the first priority for the mill levy funds is to bring teacher and staff salaries to the mean, as determined by comparing the salaries of teachers and staff at nine state school districts comparared to Steamboat.
"Some people are already at the mean, but few are being paid at the mean, so some will be getting more of an increase than others," Connelly said.
Howell said she realizes that some staff will perceive that as "not fair" because not everyone will see the same pay increase. But, she said, moving all staff salaries to the mean has been identified as a priority by CBT.
The increase in pay - for staff members who will get a raise - takes affect this month.
After the increase in current staff pay, ensuring salaries stay competitive is next on the CBT and School Board's agenda.
"We will try to bring people up next year to a little above the mean because we always are a year behind," Connelly said. "We will get a little bit ahead of the mean."
The increase in pay has been identified as essential in attracting and retaining quality staff to the Steamboat district, but pay is not the only thing CBT members will look at during the process.
"We keep throwing ideas out," Connelly said. "I guess there are advantages and disadvantages to a lot of different options."
Some options mentioned during the election process include housing allowances, moving stipends, signing bonuses for teaches in critical need areas such as special education and math, and a retirement plan, among others.
Connelly said the CBT process is going well.
"I am really impressed on how they are focused on what is going to be best for our district," Connelly said about CBT members. "If we are focused on who is here and can't get anybody in, it's all intertwined."
Howell said the goal is to settle on a CBT plan in terms of compensation and benefits this spring and put it to a staff vote before school dismisses in June.