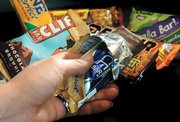 At Home, Winter 2007
Whether it's for a quick snack to get you through the morning or as a high-protein meal to help your fatigued muscles power through those last few moguls, energy bars have become a regular part of many people's diets. But unless you take a careful look at the label, your favorite "energy bar" may be no better nutritionally than your average candy bar.
Nutritionists say it's important to understand that just because a product identifies itself as an "energy bar" doesn't mean it will deliver on that promise.
Any energy supplied by food usually implies calories. The correct questions to ask might be, "How many calories do I really want? And, where do I want those calories to come from?"
Linda Carlton of Healthy Solutions in Steamboat Springs said that, when consumed wisely, energy bars can play a role in a healthy diet.
"If you eat them now and then, they can be good," she said. "But it's not good to eat them in place of too many meals. If you're biking or skate skiing, it's a really nice way to get food in you."
In fact, nutritionists say half of a bagel and a piece of fruit can supply the same amount of nutrition as many energy bars.
When choosing energy bars manufactured by the same brand - PowerBar, for example - consumers need to keep an eye out for variances in fat and sugar content. PowerBar's Apple Cinnamon bar has just 2.5 grams of fat and 20 grams of sugar. In contrast, the Caramel Peanut Crisp bar has 14 grams of sugar, but 5 grams of fat.
Honey Stinger, based in Steamboat Springs, compares favorably to other brands, Carlton said.
"This is a really nicely made product," she said. "It has 10 grams of protein in it, and it has B vitamins that help provide energy as well as organic honey. People look and see 5 grams of fat and think, 'Whoa,' but you have to think of it as a meal replacement."
Putting them to the test
Tested Bars
Odwalla Bar, Superfood flavor
Protein: 4g
Calories: 230
Calories from fat: 35
Total Fat: 4g
Sugars: 20g
The bar tastes fresh and natural, and, like the company's beverages, it feels nourishing. The juicy raisins provide the most prominent taste.
CLIF Bar, Chocolate Brownie flavor
Protein: 10g
Calories: 240
Calories from fat: 40
Total Fat: 4.5g
Sugars: 20g
A hearty snack, the Chocolate Brownie CLIF Bar is quite dense, packed with oats and soybeans. The taste does resemble that of a chocolate brownie, but strangely, it is also reminiscent of a Guinness beer. Cheers!
Honey Stinger, Berry Banana Buzz flavor
Protein: 10g
Calories: 180
Calories from fat: 30
Total Fat: 3.5g
Sugars: 22g
This bar tastes better than most, but it lacked much of a banana or berry flavor. I liked the thin layer of white chocolate on the bottom of the bar. The actual consistency of the bar was a little rough in the sense that I felt like I was eating shredded fiber cereal.
PowerBar Triple Threat, Caramel Peanut Crisp flavor
Protein: 11g
Calories: 220
Calories from fat: 45
Total Fat: 5g
Sugars: 14g
Strong smell of caramel, with a light crunchy and chewy texture. The bar actually tastes pretty good with just the right amount of chocolate.
Balance Bar, Cookie Dough flavor
Protein: 15g
Calories: 200
Calories from fat: 60
Total Fat: 6g
Sugars: 18g
While Balance bars can often taste very dry or chalky - especially the yogurt-based bars - the cookie dough flavor was very light and slightly crunchy. But I still wouldn't eat it without a bottle of water close by.
ZonePerfect, Chocolate Mint flavor
Protein: 16g
Calories: 210
Calories from fat: 63
Total Fat: 7g
Sugars: 13g
Good mint flavor, crunchy, and easy to chew. Despite lots of sugar, this bar leaves a mild aftertaste.
Detour Designer Whey Nutrition Bar, Protein Caramel Peanut Bar
Protein: 30g
Calories: 350
Calories from fat: 100
Total Fat: 11g
Sugars: 11g
Pleasantly chewy, nondescript chocolate-peanut taste. Of course, it might taste heavenly while attempting to survive three days lost on the Continental Divide.
Nitro-Tech Advanced Protein Bar, S'mores flavor
Protein: 30g
Calories: 290
Calories from fat: 70
Total Fat: 8g
Sugars: 4g
Wow. If they're going after the weightlifting crowd, they hit their mark. My jaw muscles certainly got a workout chewing through the bar's rubbery texture. But, the "dietary supplement" bar actually satisfied my lunch-time hunger far more than a Snickers ever could. I don't know about the S'mores flavor - it resembles chocolate and there's a bit of that chalky, power-shake aftertaste, but the bar delivers for filling a gut.