Past Event
Wednesday, January 16, 2008, 7 p.m. to 8:30 p.m.
Steamboat Springs Mountain Theater Company, Ski Time Square, Unit G105, Steamboat Springs
All ages / $25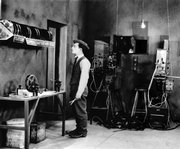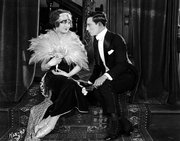 Photoplay music was what accompanied silent films in the early 20th century, but it became a lost art until recently.
"At one time it was the most commonly performed music in the country," said Rodney Sauer, pianist and score compiler for the Mont Alto Motion Picture Orchestra. "The biggest challenge now is just finding the material, because it's not easy to come by. It all went out of print in 1928."
Sauer discovered one of the four photoplay music collections in the country at the University of Colorado at Boulder when he was looking for dance orchestra music.
"It was a big part of music in America that ended overnight when talkies came in," he said. "It was a live media performance that is closer to the art form of ballet and opera than modern film. You were going out for an evening of live entertainment and would see a film on stage."
The Mont Alto Motion Picture Orchestra will re-enact what audiences experienced when going to early films during a performance Wednesday at Steamboat Mountain Theater. The orchestra has compiled an original score to the silent movie, "Sherlock, Jr.," a comedy that makes fun of detective movies.
"It's like an early James Bond film with all the gimmicks and over-the-top detective cliches taking part," Sauer said. "It's almost like he's making fun of James Bond movies before James Bond movies were produced."
The musicians who perform photoplay music have a difficult job keeping up with a film's unrelenting score.
"You start playing at the beginning and are still playing at the end with little time to turn the pages," Sauer said. "You have to be on your toes and be a good reader."
Photoplay music varied greatly from scene to scene.
"Some of it was obviously written for a particular scene. Other music, like the love scenes, were very much in that 19th century romantic composing tradition," Sauer said. "Some of it was very avant-garde and was written for strange and eerie scenes like battles and cemetery scenes, which can be very creepy."
"Sherlock, Jr." was considered an advanced film at the time it was released.
"There were amazing special effects back then that had to be done with the camera because they didn't have darkroom effects," Sauer said. "In one scene the wall dissolves away and they had to do the trick with the light and multiple takes on the same piece of film. It's very impressive to watch."
The Mont Alto Motion Picture Orchestra has an inventory of 50 silent films for which they have compiled scores.
"All of them are some generation or other from the original film," Sauer said. "The originals were released on nitrite, and we don't use the original film because they are rare and flammable."