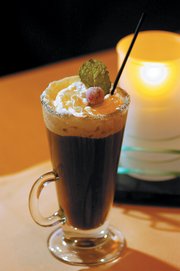 At Home, Winter 2007
January marks the end of holiday season. The seemingly endless number of Christmas parties are over, and Steamboat locals slip back into their (more) normal routines. But that doesn't mean the fun needs to stop. January through April is a great time to throw parties in Steamboat. Whether it's an intimate dinner for friends while the snow is falling outside or a Super Bowl bash, start planning early to set your party apart from the others.
Before you pass "Go," make sure you know why you're having the party.
"Most parties revolve around a special event or theme," said Jill Waldman, an event coordinator for The Main Event. "A reason to have a party is usually pretty easy to come up with."
Waldman said the concept can be as easy as a "Thank God the holidays are over party" or an "It's the middle of winter and there's nowhere to go party."
"Make it a nontraditional party. Anyone can open their home up," she said. "Starting with a theme or a concept and carrying it out can really set it apart."
Once you've got your theme, come up with a guest list and set a budget. Invitations should go out about four weeks before the party, Waldman said. And it's perfectly OK to say "Regrets Only" on the invitations so that only those people not attending call the host.
For hosts who may not have the time or inclination to worry about the details themselves, event planners and caterers can help make a fantastic fete.
"The No. 1 recommendation I have to the host of a party: Do not try to do it too much yourself. You will not enjoy the party," said Greg Smith, owner of Fireside Catering.
Smith said there always will be things you may not have thought of, or things that take longer than expected, that put added stress on a host.
Coordinators also think of the added extras to make your party unique and, hopefully, unforgettable.
"It is the little things you add to an event to really make people remember it and make it stand out from the rest," said Lindsey Grannis, wedding coordinator and owner of One Fine Day Productions.
Catering
Keep these things in mind before calling a caterer:
- What kind of food you want
- Budget - If you don't know what food costs, look at menus on catering Web sites to get an idea
- Space - Where the event will be held, particularly if it is a large party
- An estimate of the number of people attending your party
Perhaps most importantly, don't put off calling the caterer. "Being that Steamboat is a small town, to secure everything up front usually makes it a lot easier," said Fireside Catering's Greg Smith.
Centerpieces
"Keep the centerpieces low so people can see across the table. You can still incorporate small, tapered skinny candles. In January, you can use evergreens and pinecones and fresh flowers. After the holidays, stay away from red and green arrangements. Florists can import a variety of flowers that aren't necessarily in season. You can also incorporate winter fruit, such as pomegranates," said Lindsey Grannis of One Fine Day Productions.
Extras that will make your party stand out
- Chocolate fountain: "You can buy them these days for less than $100. If it is a sit-down dinner, it gets everyone standing around a table and becomes a social center," Grannis said.
- Live music: "It's not that expensive to get some live music. It really makes a party elegant and sets it apart from just using your CD player," said Jill Waldman, event coordinator at The Main Event.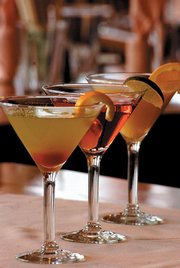 Party Drinks
"It's fun to have a theme drink, whether it's something around the holidays - like eggnog and liquor. If you bring in a
specialty drink that goes along with the season, it adds something to the party," Grannis said.
To make Cottonwood Grill's Curly Bamboo, shown at right, mix one shot pearl coconut vodka, one shot pineapple juice, a dash of Midori melon liquor and a squeeze of lemon and lime. Bartender Carolyn Fisher recommends making up a batch or two before your party so you can enjoy yourself without mixing drinks all night.
Fisher's tips for making drinks look like you've spent a lot of time? Garnishes. She says using things like mint leaves, cut-up fruit and starfruit will make any drink look fabulous. "All the odd fruits that you never buy in the grocery store look great in garnishes," she said. Kids' candies like gummies can be put on skewers and added to a drink, and Cottonwood Grill also uses candied cranberries to make drinks look seasonal, Fisher said. To make, wet the cranberries and allow them to dry slightly, Then roll them in sugar and let sit to dry completely. Sprinkle a few on top of whipped cream for a special coffee or hot chocolate.
Other theme ideas
Iron Chef
Winter Wonderland
Bad prom (wear old prom/bridesmaid dresses) and play music from your high school years
Singles party for Valentine's Day
Mardi Gras
Valentine's Day
St. Patrick's Dayv
Casablanca
Arabian Nights
Chocolate Party
Fondue Party
Where I Come From (have guests use their heritage to choose dishes to bring)
American Idol/Karaoke Party
Martini Party
Greek Night
Italian Night - Godfather
Wine Tasting
"Host a murder party" board game
1970s Flashback Party (play Twister)
Board Game Party
Disco Party
Casino Night
Red Carpet party
A Red Carpet party can be held to coincide with any big awards show, such as the Oscars, on TV. Make everything "Old Hollywood" by using black, white and red as the theme colors. Guests also should wear black and white. Make black and white food such as black beans and rice or caviar and brie. Incorporate blackberries into martinis and coffee. Add a splash of red for extra drama. Place Polaroid cameras around the room so guests can act like paparazzi. Or, if it's in your budget, rent old-time photo booths and make a variety of fun hats for guests to wear, Grannis said.
Super Bowl party
Super Bowl parties are a late January or early February staple at homes across the country - and world, for that matter. And most Super Bowl parties don't stray from the basic formula: finger food, beer and football.
Waldman has some ideas to make guests remember your Super Bowl - including those who don't give a hoot about the game.
"Serve more elegant food," Waldman said. "Bring drinks that are more than just beer - make your own drinks. Get creative and play on the teams. If you are cheering for Miami, have a Miami Vice-themed party, or if the Super Bowl is in St. Louis, have ribs."
Coffee and dessert party
Parties don't have to involve full menus or a lot of liquor.
"Coffee is so hot right now, why not have a coffee party with a coffee machine and desserts and hire a barista?" Waldman suggested.