Rising stars
At Home profiles a few local youths who show potential for success
At Home, Winter 2007
Routt County children and teenagers have access to countless opportunities.
Howelsen Hill and the Steamboat Springs Winter Sports Club offer world-class instruction and competition. The Perry-Mansfield Performing Arts School & Camp provides an extraordinary venue for creative talents. Local schools have top-notch educational and athletic facilities, and consistently surpass state standards for excellence. Parents and teachers in Routt County are very involved in the lives of their children and students, showing dedication and passion that often return remarkable results.
And speaking of world class, there's that big ol' ski mountain overlooking downtown Steamboat. Most children don't realize how fortunate they are to grow up in a place like Routt County.
Of course, many of them are very talented in their own right.
With "Rising Stars," At Home scratches the surface of the potential shown by a few of our local youths. And for every teen depicted, there are many others who could have filled the same page. Just ask Caterina Mader. The international ski racer and high school sophomore doesn't have to listen hard to hear footsteps. Her younger sister, Jessica, already is a skilled racer.
Not every corner of the county is represented in the following pages, and it's certainly not because of a lack of talent. It's because these six teens show what's best about all of Routt County.
These are teens recommended by coaches, teachers, neighbors and community members. They are athletes, scholars, performers and artists.
In the bright galaxy of Routt County youths, they are a few of many rising stars.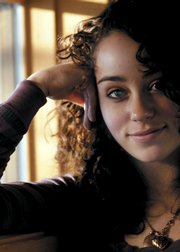 Miriam Pensack
Miriam Pensack's photo shoot was a breeze.
At age 15, the Steamboat Springs High School sophomore acts like a seasoned professional in front of a camera, on stage or at a piano.
The comfort level at the photo shoot could be attributed to the surroundings - Miriam has performed and taken classes at the Perry-Mansfield Performing Arts School & Camp since she was 8.
"I spend my summers out here," she said. "It's so unlike anything else in Steamboat."
June Lindenmayer, executive director of Perry-Mansfield, said Miriam's summers are not vacations.
"She has one of the strongest work ethics as a young actress that I've seen," Lindenmayer said. "Miriam is determined, and she is very bright. She absorbs the energy around her and uses it in her work."
Last summer, Miriam landed her favorite and most impressive role to date - the fanatical reverend's daughter Sally Simpson in a Perry-Mansfield production of The Who's "Tommy."
"I definitely like the challenge," Miriam said about performing. "Acting is about more than walking the way someone walks - it's about analyzing a person's state of mind and what makes them human."
Miriam hopes to blend academics and the arts in college.
"New York City is definitely involved in there somewhere," she said, naming the Tisch School of the Arts at New York University as her dream school.
Lindenmayer said that if Miriam continues her hard work, the aspiring actress, singer and dancer could have a leg up on the competition.
"Miriam has a true love of the arts," Lindenmayer said. "She has the opportunity right here in her backyard to study with some of the finest instructors in the United States, and it's paid off for her.
"I think it will propel her beyond where I think a lot of other students in the country will be."
Lane Shipley
For Lane Shipley, navigating the senior year of high school - and looking toward the great unknown of life after graduation - is a lot like playing his favorite sport.
"It's like the feeling you get before stepping onto a football field - a thrilling kind of scared excitement," said Lane, 18. "You know something is going to happen, but you don't know what. You hope it's something good."
For Lane, "something good" is a safe bet. He's juggling an impressive list of potential colleges, including Georgetown, Princeton and Dartmouth. Those are the kind of schools Lane couldn't consider simply with his All-State and All-Conference honors as a lineman for the Sailors football team.
"I think I have yet to get a 'B' in all of school," Lane said about his academic track record.
The National Honor Society member credits his parents and Steamboat teachers for keeping him on track.
"I've been raised well," Lane said.
A member of the Steamboat Springs Winter Sports Club since he was 7, Lane is a former Alpine racer who won Junior Olympic championships in his early teens. But a knee injury playing football this fall showed Lane that "athletics are not always going to be there."
Fortunately, the burly senior has no problem keeping his mind occupied.
A self-described "big, big reader," Lane recently had a test on the Toni Morrison novel "Beloved."
"It's interesting," Lane said of the story about slavery in the aftermath of the Civil War. "She writes with a constantly switching point of view - it makes you think about a lot of things."
Lane's outspoken nature - and the fact that he "just gets numbers" - could lead to a career.
"Right now, I feel like I want to do business or marketing," he said. "But you never know."
Once you step on that field, anything can happen.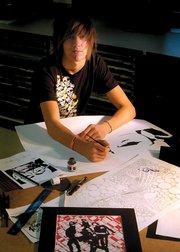 Carter Moore
Yes, there is such a thing as a Christian heavy metal band.
And 17-year-old Steamboat Springs High School junior Carter Moore, who plays bass and sings backup vocals for The Red Letter Effect, sees no contradiction in his band's musical style and its members' religious beliefs.
"Just because it's heavy metal or whatever doesn't mean it can't be Christian," Carter said. "What we believe influences how we live our lives and what we like to play."
The shaggy-haired junior's life is a dizzying blend of music, school, art and activities with the youth group at his church.
Steamboat Springs High School art teacher Chula Walker-Griffith praised Carter's artistic talent. One look at his work explains why.
An untitled drawing Carter completed in November is a swirling creation of hundreds of variously sized circles, a musical bar that floats in waves across those circles, and intricate shading that makes the eye take a few moments to absorb the drawing's scope.
"There's no end to it because you don't know where it's going to take you," Carter said about the piece. "You never know what twists and turns life will take you on."
Carter said he finds consistency at the Steamboat Christian Center, where he plays an active role in a rapidly growing youth group that draws more than 200 people to weekly meetings on Wednesday nights.
Like The Red Letter Effect, Carter said the youth group defies religious conventions.
"A lot of people think church is boring," he said. "Definitely, our youth group is not boring."
When youth turns to adulthood, Carter plans to pursue a career in graphics or Web design.
"I like taking my artwork, putting it on the computer and making something out of it," Carter said. "If none of those work, I'd really consider being a foreign language teacher or a youth pastor. I have a real love for young people."
And there will always be music.
"That's something I'll always come back to, is church music," Carter said. "I'm really intertwined with music - it's a big part of my life."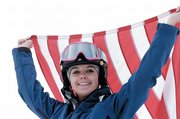 Caterina Mader
The cheers of family and friends aren't the only thing Caterina Mader hears while racing down a ski mountain.
"I love skiing to techno," said the 17-year-old sophomore at Steamboat Springs High School and champion ski racer. "It has a really good beat - you can imagine your runs to it."
Techno music's energetic, kinetic rhythms suit Caterina well. The outgoing teen is constantly in motion. Her friends call her "Cat," and the back of her Subaru is filled with ski gear, most of which is covered in the logo stickers of companies that endorse her or motivational slogans such as "Girls Kick Ass." Her cell phone rings often.
And she is absolutely at home on Howelsen Hill, where she has been skiing since she could walk and racing competitively with the Steamboat Springs Winter Sports Club since she was 9. Her talent and dedication already have taken her around the world to competitions such as the Junior World Ski Championships hosted by the International Ski Federation. She skis freestyle moguls for sponsors including Roxy, K2 and Marker.
"There's never really a time when I'm not thinking about skiing," Caterina said. "It's a year-round thing."
Which means year-round work. Caterina's alarm clock is set for 5 a.m. She meets a trainer at Howelsen Hill three days a week. She averages 100 sit-ups a workout.
And she takes her lumps.
"I've had knee and foot issues ever since I've been competing," Caterina said. "Anytime you land a jump wrong and your feet slam into the front of your boots, you can expect your feet will be dead."
Rick DeVos, executive director of the Winter Sports Club, said Caterina's hard work will likely pay off.
"This girl is still really young," DeVos said. "I think we're going to see many, many years of her as a competitor. There are good things coming in her future."
Caterina and DeVos acknowledge that she has a lot more work to do before reaching her goal of competing with the U.S. Olympic team in the 2010 Winter Olympics in Vancouver.
Ultimately, the girl who loves chocolate-covered raisins, Mexican food and photography has a goal loftier than competing for the national team.
"I'd like to be the top racer in the world some day," Caterina said.
Crank up the techno.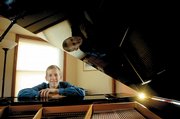 Charlie Stoddard
Charlie Stoddard can solve a Rubik's Cube in less than a minute - and then tell you exactly how he did it.
"I start off by making a cross with one color, like this," Charlie said as his hands whipped the puzzle's interlocking pieces into place with practiced, rapid-fire motions.
Charlie, a sophomore at Steamboat Springs High School, said the cube could be the spark that ignites a career in neuroscience.
"Every cube you solve is different in its own way," Charlie said. "How does the brain recognize the same puzzle and adapt to solve it with the same mechanism? It's fascinating."
Charlie said he became interested in solving Rubik's Cubes while attending a summer camp at Stanford University when he was in middle school.
The camp also began an ongoing interest in the world-class university. Charlie is taking linear algebra through Stanford, his fourth class from the prestigious California school. He started with a multi-variable calculus course in eighth grade.
"California is just an amazing place," he said. "And I don't like the cold very much; I like being warm."
But he deals with it when he has to - like when he's competing in Nordic combined events for the Steamboat Springs Winter Sports Club. He also competes in cross country and track, is a member of the high school's Knowledge Bowl team, math group and Honor Council, and writes for the school newspaper.
And he plays a mean grand piano.
"I just finished a Beethoven sonata," Charlie said.
But his true love is math.
Every year, he voluntarily participates in the American Math Competition, a series of nationwide tests that gets progressively harder as the field of competitors narrows. Last year, Charlie missed the cut for the top 60 math students in the nation by one point, on a test that allowed its takers nine hours to answer six questions.
In November, he finished third in the state in a high school math competition at Colorado State University.
It's no wonder that an individual who uses so much of his brain, so well, hopes to one day unlock the organ's mysteries.
"The brain is really one of the few unexplored regions of human knowledge," Charlie said. "I'd like to be able to comprehend some of that."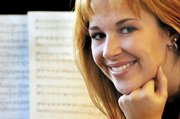 Toni Lombardi
Toni Lombardi will never forget her 18th birthday.
Standing behind home plate at Coors Field in Denver - in front of a crowd of thousands waiting to see a Colorado Rockies game - Lombardi belted out the national anthem.
"It was my dad's crazy idea. It started out as kind of a joke," said the Soroco High School senior. "But it went really well. My whole family was there."
Toni said her mother and Kelli Turnipseed, director of music at Soroco Middle School and Soroco High School, snuck an audition tape to the Rockies after telling Toni the recording was "just in case" she needed a tape down the road.
"I was totally fooled," Toni said about her birthday present.
Turnipseed said she was not at all surprised that Toni nailed the anthem.
"Under pressure, she's amazing," Turnipseed said. "I can always count on Toni. She may have difficulty in rehearsals, but when it comes down to the performance, she nails it - every time."
The talented musician, student and athlete has plenty of experience with pressure. Toni is president of her senior class, Homecoming Queen, vice president of the school's National Honor Society chapter, co-president of the school's Future Business Leaders of America chapter, a three-sport athlete - volleyball, basketball and track - and a current or former member of the school's jazz combo, band and choir.
"We're going to miss her next year," Principal James Chamberlin said.
"She's naturally gifted," Turnipseed added. "Toni makes everything look easy."
But the senior knows that in a just a few months, life will get tough.
"I'll definitely cry at graduation," Toni said. "I wouldn't trade Oak Creek for anything - a big city doesn't do it for me. I'm going to miss everything about this place."
Toni said she likely will attend Mesa State College in Grand Junction next year, possibly to pursue a business degree.
She also hopes to continue singing by performing at events, in a choir or on any other stage she can find.
"It's always something I'll keep in mind," Toni said. "It's never something I'll give up on."