Watch for a cause
Routt County residents are invited to Steamboat Mountain Theater at 7:30 p.m. Sunday to watch the ski movies made by local videographer Dave Genchi. Genchi suffered as serious spinal injury Dec. 21 while working as Steamboat Powdercats' photographer. Proceeds from Sunday's event will go to the Dave Genchi Recovery Fund. For more information, call Steamboat Powdercats at 879-5188 or Wells Fargo Bank recovery fund account representative Brandy Forsyth at 870-2075.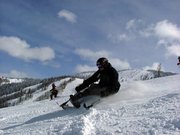 Steamboat Springs — Craig Kennedy wants to put the Steamboat Ski Area on the map as an adaptive skier's paradise.
It's the same ski area that, 11 years ago, was the site of an accident that cost Kennedy the use of his legs.
But Kennedy founded Access Anything in 2003 to "empower people to push the limits and try things they never thought they'd do" by spreading awareness of adaptive recreational opportunities. After hosting a successful adaptive ski camp last year, Kennedy again is helping to bring the Vectra Bank All Mountain Ski Camp back to Steamboat.
The event, which runs tonight through Tuesday, will be presented by Access Anything, Steamboat Ski and Resort Corp., Steamboat Powdercats and Adaptive Adventures. Adaptive Adven-
tures is an Evergreen-based nonprofit organization that helps bring outdoor sports and recreation programs to people with disabilities.
"We've been doing all-mountain camps for seven years," Adaptive Adventures co-founder Joel Berman said while riding a chairlift Wednesday during a camp at Vail. "For years we wanted to come to Steamboat. Since we've teamed up with Craig and Andrea (Kennedy's wife and co-founder of Access Anything), things have really come together. We're psyched to come back - Steamboat and the community have been so friendly and interested in supporting the ski camp."
Adaptive Adventures plans to help attendees with a mix of instructors from the Steamboat Ski and Snowboard School as well as some of the world's best adaptive athletes, including 12-time Paralympic gold medalist Sarah Will and Adaptive Adventures Ski School director and 2005 Colorado Ski Country Disabled Athlete of the Year Matt Feeney.
Kennedy pointed out that the camp's group of 25 athletes will include many sponsored soldiers who were injured in combat. At least six will return from Iraq for the camp. Their participation is possible because of sponsors such as the Wounded Warrior Disabled Sports Program.
"What we're doing, it feels good," Kennedy said. "These are soldiers and their families. A lot of them have never skied, let alone been in the backcountry. It's like we're reopening their eyes."
Kennedy knows the highlight of the camp for many skiers will be their Tuesday ski trip on Buffalo Pass, courtesy of Steamboat Powdercats.
While Kennedy noted the tremendous outpouring of generosity from the Steamboat community to support the soldiers with disabilities and their families, he said he still is accepting donated sponsor support for the soldiers. Interested parties can call Kennedy at 846-9859 or e-mail craig@accessanything.net.
For more information on the camp or other adaptive programs, visit www.adaptiveadventures.org and www.accessanything.net.