Photo Gallery
Mountains of coal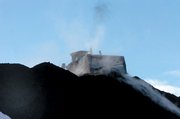 Twentymile crews produce millions of tons of coal, one cut at a time.
In the numbers
103,578,012
Tons of coal produced at Twentymile from mid-1985 through 2005
9,600,000
Tons of coal produced in 2005
237,128
Roof bolts used to stabilize mine shafts at Twentymile in 2005
$5.40
Average cost of one roof bolt
689,111
Gallons of diesel fuel used at Twentymile in 2004
200
Gallons of water per minute used by the longwall's shearing machine
$585,000
Twentymile's average monthly electric bill, as of April 2006
1,783,210
Number of 50-pound bags it would take to hold the white calcium carbonate "rock dust" used to suppress coal dust at Twentymile in 2005
What The Numbers Mean
According to Jerry Nettleton, environmental manager at Twentymile, the average person uses 3,000 kilowatt-hours, or kwh, of electricity in one year. A household with a statistical average of 2.8 people uses 8,400 kwh per year, which equates to 28.5 million British Thermal Units of energy, generated by 4.5 tons of coal.
In 2005, Twentymile Coal Co. produced 9.6 million tons of coal for use locally and across the United States.
Source: Peabody Energy
Listening to Coal Train
Jerry Nettleton, environmental manager at Twentymile, said the mine loads two to three coal trains every 24 hours. The coal trains - which roll through downtown Steamboat two to three times a day - average 110 cars. Each car holds about 110 tons of coal, meaning each train that blasts its whistle at Steamboat's Fifth Street Bridge is carrying about 12,000 tons of coal, enough to power nearly 3,000 households for one year.
On the Web
Learn more about Peabody Energy and take a virtual tour of Twentymile Coal Co. at www.Peabodyenergy...
Read the federal Mine Safety and Health Administration's reports about Twentymile Coal Co. at www.msha.gov. Click "Data Retrieval System" in the Quick Links box on the left side of the page. Scroll down and enter "Twentymile Coal Company" into the Operator Name search box, or search by the mine's federal ID number: 0503836.
At Home, Winter 2007
The tunnel seems endless.
But Production Supervisor Troy Madsen moves confidently forward, stooping under a low roof and striding from one metal platform to another. He is more than 1,100 feet underground. Only the bobbing beam of Madsen's headlamp lights the surrounding darkness.
Each platform is part of the "longwall," a 1,000-foot, $65 million excavation system that is the largest production area at Twentymile Coal Co. (on Routt County Road 27 in West Routt County).
Twentymile spreads across - and beneath - about 40 square miles of rural land between downtown Oak Creek and Hayden. Reaching the mine's longwall requires driving more than six miles underground, through mine shafts just large enough for a pickup.
"This is the best mine I've ever been in," said Madsen, a veteran coal miner who has worked at Twentymile for 11 years. "It was a real eye-opener when I first came here. Everything here is bigger, heavier and more (technologically) advanced."
The aptly named longwall is longer than three football fields and dominated by a massive, continuous conveyor belt sitting in front of a thick strip of coal.
Between the coal and the belt is a 98-ton shearing machine, which cuts the coal from the tunnel wall. The shearing machine looks like an insect mixed with a giant drill, and it can move 196 feet in one minute.
Computers and hydraulics control the shearing machine, conveyor belt and 150 metal plates, or "shields," that support the roof. Each shield weighs 35 tons.
Just after 8 a.m. on a Thursday in late November, Madsen presses a button and one of the shields swings down with an iron shriek, sending part of the roof crashing to the tunnel floor. Madsen drops three sections of the roof to demonstrate how to move the longwall.
"It's a rush. Once you get the shields moving, the roof starts collapsing in behind you," Madsen says. "Once it finally comes, it'll start popping and banging ... oh, man, it's a rush. It's that kind of stuff that keeps me coming down here."
In 2005, Twentymile produced 9.6 million tons of coal, fueling the Hayden Station power plant and electricity generators across the United States.
"When the longwall runs like it should, it's incredible what that thing can do in a day," said 11-year crew worker Bill Bennett Jr.
Rough jobs
Madsen and Bennett Jr. are two of more than 500 employees at Twentymile. St. Louis-based Peabody Energy, the world's largest coal company, has owned the mine since 2004.
"The coal we mine here is very good quality, what we call 'super-compliance' coal that can go into almost any utility," Twentymile Coal environmental manager Jerry Nettleton said.
Twentymile is expanding operations and aims to produce 12 million tons of coal annually by 2008. In the past year, mine officials hired about 100 additional employees.
But even with state-of-the-art machinery and a record-setting year of safety in 2005, conditions at Twentymile - like any coal mine - can be brutal. Workers endure extreme heat, darkness, dust and proximity to heavy machinery.
"I've seen guys lying in fetal positions," utility man Ken Ferrier said of working on the longwall while the roof is collapsing, or while the shearing machine is "chewing the face" of the coal seam.
Ferrier has worked on longwall utility crews at Twentymile for nearly four years.
He said "the first month or so was real rough" as his body got used to carrying 80- or 100-pound pieces of infrastructure equipment, such as metal bars, through uphill mineshafts.
"I don't know if I ever feel 100 percent at ease underground," Madsen said. "You're always waiting for something to happen."
Thirteen-year Twentymile employee Diane Scott, director of safety at the mine, said it can take nine months for a new employee to get in prime physical condition for the job.
"I was raised on a ranch, so bucking bales is nothing new," said Ferrier, who grew up in southern Colorado. "It's just solid material now, instead of hay."
A dry-erase board in a lunchroom at Twentymile reports 15 employee-related accidents at the mine in 2006, but none in November.
"Safety is the No. 1 priority, all the time," Human Resources Director Ron Spangler said.
But accidents happen.
On the morning of Dec. 10, three men working for Frontier-Kemper Constructors, an Indiana company contracted to install an airshaft in a non-operational area of the mine, were injured when their platform shifted. One man fell 30 feet and broke his leg.
The federal Mine Safety and Health Administration, or MSHA, reports 35 accidents at Twentymile in 2006, including accidents involving contractors.
The MSHA also states that there is an ongoing safety and health inspection at Twentymile that began Oct. 20.
"Twentymile's 2005 incident rate of 1.81 (incidents) per 200,000 hours worked was 76 percent better than the U.S. underground mine average of 7.71 incidents," Peabody spokesman Derrell Carter wrote in an e-mail. "Twentymile Mine also was recognized as Peabody's safest underground operation in 2005."
Well-earned wages
The rough work is rewarding. New Twentymile employees start at $18 an hour and can earn $26.30 an hour after one year, Spangler said.
Twentymile employees can also earn pay raises by achieving additional certifications or qualifications in related fields. Spangler said Twentymile has about 30 employees on-site who are certified Emergency Medical Technicians.
Ferrier said he recently received his "mine foreman papers" after hours of study and an eight-hour exam.
Workers at Twentymile provide an absolutely crucial human need - electricity - that many people likely take for granted, despite the coal trains that rattle through downtown Steamboat Springs two or three times a day.
"Bottom line is, we're proud of our people and proud of what we do here," Spangler said. "We know we're world-class."
The mine fuels more than the Hayden Station power plant - it fuels local economies and communities. Twentymile paid about $21.5 million in royalties and taxes to federal, state and local government agencies in 2005. The mine's payroll that year exceeded $39.7 million.
Twentymile draws employees from Routt and Moffat counties, including more than 300 employees from Craig, where Madsen lives with his family.
Cold above, hot below
Madsen leaves his home at 3:30 a.m. and drives through pre-dawn darkness to begin his 10-hour shift at 4:30. On this day, when early morning temperatures dipped below zero, Madsen is in the middle of eight consecutive workdays that will be followed by six days off.
"My life is pretty much dedicated to the mine when I work," Madsen said.
His breath condensed in the cold air as he, Ferrier and Bennett Jr. donned the steel-toed boots, reflective overalls, helmet, headlamp, gloves, goggles, emergency oxygen tank, tool belt and ear plugs that make up their daily uniform. The coolers that hold their lunches are covered in coal dust and grime.
"On days like this you look forward to getting underground," Madsen said about the cold air outside.
The custom-designed pickup Madsen drives daily into the mineshaft is equipped for underground conditions and hazards such as darkness and fire.
Twentymile has more than 13 miles of underground tunnels and conveyor belts. The belts cost about $73 a foot. The total conveyance system cost more than $50 million.
Madsen executed one turn after another through the underground shafts, driving past blue reflectors that show the path to an exit and red reflectors that hang on a "lifeline" to be used in emergencies with thick smoke.
"Tour group has arrived in Zone 4," Madsen said into a speaker on the wall at one point, notifying technicians above ground of his location.
Madsen parked the truck at a table with an overhead light bulb, water cooler, benches and a day-old copy of the Steamboat Today.
"You can see we have all the finer things in life," Bennett Jr. said, patting his hand on a microwave near a non-operational conveyor belt. "We used to heat our burritos on the motors."
Deeper in the mine, a crew of workers sat at a wooden table and ate only by the light of their headlamps, talking about professional football and a Hayden softball league.
One of those workers was Production Supervisor Jerry Reed, who has worked at Twentymile for 16 years. His crew of at least 12 men works "continuous mining" areas, which are production zones not on the longwall.
As crew members back vehicles loaded with coal up to a conveyor belt, dump the load and rush back for more, the constant noise and activity is reminiscent of a subway station.
"It's a steady hum," Ferrier said.
Reed said he has seen quite a lot during his career as a miner.
"I've been doing it for 31 years," he shouted over the din. Reed is a Craig resident who also has worked in a mine near Carbondale. "I don't know anything else."
Madsen said one of the roof bolters told him temperatures in the continuous mining zone that morning reached 117 degrees because of all the machinery, labor and tight spaces.
"I haven't worn long underwear in years," Reed joked.
Madsen said he works at Twentymile for the challenges, the different tasks every day and the continuous production of a vital resource.
"There are still days when I'll just stand here, in awe, and watch them load the coal," Madsen said. "It still impresses me. If I didn't enjoy it, I would have given it up a long while back."