Past Event
Saturday, October 14, 2006, 10 p.m.
Chelsea's Restaurant, 345 S. Lincoln Ave., Steamboat Springs
All ages / Free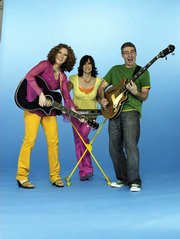 The Laurie Berkner Band gives children and adults the opportunity to safely release energy and emotions through body movement.
"It's your chance to roar and use your claws and be loud," Berkner said about the song, "We Are The Dinosaurs," which asks listeners to be angry and stomp around. "It encourages people to let that side out, which every adult would also like to let out because we are told not to be angry."
Berkner and her band will perform Sunday in the Music Tent at the base of the Steamboat Aki Area. The concert is part of the Nickelodeon & Steamboat Family Snow Festival.
Berkner credits her teaching background for her ability to connect with children.
"I was working with a group of kids every day, which amounted to about 25 classes a week," she said. "I was able to experiment and play with them. I learned so much from them and from being immersed in their lives."
Berkner discovered that children become more engaged in music when there is movement involved.
"Especially in the classroom setting, it was really obvious how important moving was for kids to feel like part of the music," Berkner said. "If I hadn't been working with the kids, I'm not sure I would have understood that."
Berkner began her professional music career in 1992 and performed live in rock and cover bands.
After struggling to make a name for herself, she started concentrating on writing children's music and since has helped change the depiction of the industry.
"The image of kid's music is as being lesser than, not taken seriously, not having good quality recordings and not using real instruments," Berkner said. "I was trying so hard to be a rock star. If I was going to write music, I was going to put the same musicality and seriousness behind recording it, because I wanted to be respected by my friends who are musicians."
Berkner since has released four albums, and her band appears weekly on "Jack's Big Music Show," an original music series that debuted in September 2005 on NOGGIN, Nickelodeon's educational sister station.
She has won a number of awards, and one of her songs appeared in an episode of the hit TV sitcom "Sex and The City."
"It was the episode called 'A Woman's Right To Shoes,'" Berkner said. "In the scene where (Carrie Bradshaw) decides to call her friend back, and her kid answers the phone - it plays in the background."
Audience members will recognize many of Berkner's songs Sunday.
"I will play a little bit of everything so anyone who has an album gets to hear something they know," Berkner said. "Come and have fun and get ready to roar."