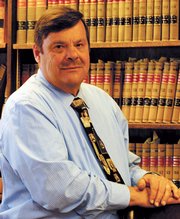 At Home, Winter 2007
So, those new skis or snowboard have you actually considering a run down Chute 3 or a hike into the Christmas Tree Bowl for some steep and deep? And why not ... you've always wanted to ski a double-black diamond. But before you head to the gondola, you might want to consider a living will (especially if you won't be wearing a helmet).
Of course, estate planning might not be such a bad idea, either. And the good news is you can take care of both in Steamboat before heading up to the ski mountain.
Steamboat Springs attorney Vance Halvorson says living wills aren't exactly on the minds of twenty-something bachelors and bachelorettes, but for young couples, the elderly and anyone with children, a trip to a local attorney should be strongly considered.
Living wills are medical directives that, in the case of severe injury or terminal illness, specify what family members or medical professionals can/should do regarding your care.
Consider this grim example: You catch an edge while making turns down Buddy's Run and are thrown into a nearby tree. The resulting head trauma makes you comatose. If you've completed a living will, loved ones and doctors will know whether you want to be kept alive indefinitely, for a specified number of days, or not at all.
While that may sound morbid, Halvorson said it's crucial to be prepared for whatever life may throw your way.
"It's hard to think about, but you have to face it head on. It's life cycle. We're not going to change that," he said. "Death visits us by chance. It's like rolling dice."
Halvorson strongly recommends that anyone with children consider a living will.
"When you're thinking about a guardian for your child, you want to make sure it's the appropriate party, not just the most aggressive family member," he said.
A living will and estate planning can be time-consuming and expensive, but the headaches and heartaches such documents could prevent in times of emergency and tragedy make it worthwhile.
Many Steamboat Springs attorneys can write living wills and help with estate planning, though fewer have extensive knowledge in both areas.
Halvorson also recommends that people handle their living wills and estate planning where they live because many states have different laws.
"If you're from Atlanta and just here skiing, it wouldn't do you much good to do (a living will) here in Steamboat," he said.