Sports broadcaster Verne Lundquist
Q&A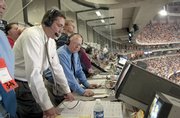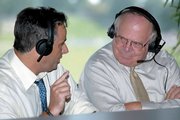 At Home, Winter 2007
National sports broadcasting icon Verne Lundquist has called Steamboat Springs home - at least when he's not on the road - for the past 22 years. Lundquist has seen and covered just about every major sporting event in his illustrious career, including the Masters golf tournament, the Winter Olympics and the NCAA men's basketball tournament. Lundquist currently is the voice of college football for the CBS network. Despite his constant travel, Lundquist and his wife, Nancy, stay actively involved in Steamboat Springs, particularly with Routt County United Way and Strings in the Mountains. Next time you're out on the town, look for Verne teeing it up on a local golf course or dining with Nancy at one of Steamboat's many fine restaurants.
In late October, At Home reporter Melinda Mawdsley caught up with Lundquist while he prepared for a weekend broadcast of the Georgia-Florida college football game.
At Home: How long have you been broadcasting with the CBS network?
Verne Lundquist: I've been with CBS since 1982. This is 24 "almost uninterrupted" years. I say almost uninterrupted because for 1996, '97 and most of '98, (CBS) lost the NFL. For that three-year period, I was with Turner Sports out of Atlanta, and I did their Sunday night NFL game and their Thursday night NBA game and a variety of other things. I've been full-time at CBS, with the exception of three years, since 1982. Over the course of those 24 years, I've done 20 different sports.
AH: Do you ever pinch yourself a little bit when you say, "Oh, I've broadcast the Olympics and the Masters and March Madness?"
VL: I understand how people feel that way, and the answer is yes, but this is something I have aspired to ever since I got into broadcasting. I was back at my alma mater in Seguin, Texas, and realized I had graduated 44 years ago, which is ridiculous. I spent the day talking to a bunch of kids and the football team. The job I'm fortunate enough to have is a job that induces feelings of 'Oh my gosh, look what he gets to do for a living?' Believe me, I understand that. But for the most part people only do see the surface. I'm sitting here right now, I've got the Georgia vs. Florida game this weekend, and I've got stuff scattered all over the table, and I'm just beginning today to put together a long list of things that I've got to get ready before we go. That's the part that nobody sees.
AH: How many years have you been covering Southeastern Conference (SEC) football games?
VL: This is my seventh. I did the NFL forever and ever and ever. I started doing play-by-play for the Dallas Cowboys in 1972. I was the play-by-play voice of the Cowboys for 12 years. That led to an opportunity to do college football for ABC, which I did for eight years, so it was kind of concurrent with the Cowboys games. I had a chance to go to CBS in 1982. It was initially to do college football, but then they switched me to NFL in 1984, so from essentially '84 to 2000 I was doing NFL. Then a variety of things happened, and they asked me to go back (to broadcasting college football).
AH: Which is better: college football or the NFL?
VL: There's no question in my mind, and this is reaffirmed every Saturday. You can't get me back to the NFL. I just feel like I got so lucky at a fairly late stage in my career to have been chosen to be the CBS voice for college football. The last two weeks are a great example. I was at the University of Alabama two weeks ago. We had an overtime game with 92,000 people watching. Last week, we had a 16-13 game - Alabama-Tennessee - and we had 106,000. This week, we have Georgia-Florida, and there will be another 90,000. Every week, it's so much a part of the culture of that region of the country that you get immersed in it. Sometimes it's too much a part of the culture, but it is really great.
AH: Was Nancy a sports fan or did she turn into one when she married you?
VL: (Laughing) She had to become one. We met in 1980. We got married in 1982. I would say she was an average fan, not compelled to sit down in front of a television set, but because of what I did for a living, we early on decided to get her involved in any way we could. For a number of years she worked with me in the booth as my spotter. She learned how to do it. The spotter is watching for substitutions and initial contact by a defender and, at times, who is running the ball.
AH: Verne, sports are dramatic. You never know what's going to happen. In that moment, you say what you feel. You can't rehearse it. Is that the most exciting part about your job?
VL: You bet. It's like being the Flying Wallendas every Saturday afternoon.
AH: Who are the Flying Wallendas?
VL: (Laughing) I'm dating myself. The Flying Wallendas were a great family of flying trapeze artists. The point being, the great satisfaction of this is that it's a 3 ½-hour live telecast. Every Saturday you bring all of the experience that you have accumulated over the years, and you make judgments, and you make those judgments in concert with the producer and director downstairs. You don't dictate what the camera is going to show. That's a decision for somebody else in the truck. He's supposedly listening to you, so he's trying to follow your lead to get where you are going, but oftentimes the process says he's going to lead you where he wants to go, so you make judgments about what you say or what you don't say, even more importantly, and when you don't say things. You learn the art. Those are the challenges of every Saturday, but those are the unexplainable satisfactions that come when the day is done and it works well.
AH: How long do you plan on staying in the profession?
VL: I hope to continue doing it as long as the satisfaction is there. I've kind of got a perfect spot. I've now become identified with our college football package. As long as my brain and feet work and the airlines don't drive me over the edge, I will do this as long as my health holds out. Look where we live. What's wrong with that? We are so blessed. As long as I can enjoy this, I'm going to keep doing it.
AH: You covered two of the better-known moments in Masters history. What are those moments?
VL: The first was in 1986. I was on the 17th, and Jack (Nicklaus) took the lead on the 17th for the first time, and he sank a putt. I say, 'Maybe,' and there is a yell of 'Yes, sir.' The second moment was nearly 10 years later. That's when Tiger hit the greatest chip shot I've ever seen. That's when I said, 'In your life have you ever seen anything like this?'
AH: What are those moments in sports that you will always remember?
VL: I've got several of them. The two golf ones involving Nicklaus and Tiger; the Duke-Kentucky (NCAA basketball) game because people say it was the greatest game ever played; and the three Olympics I was lucky to do with Scott Hamilton.
AH: I know you love figure skating. Have you always been a fan or did you really have to learn a lot about the sport?
VL: Here is the dirty little secret. I got through the 1992 Olympics. I couldn't tell you any of the six jumps. (CBS) had the rights to the '92 Olympics. Obviously, we are living in Steamboat. I immediately thought I would do the Alpine events. I lived in Steamboat. I knew Billy (Kidd), and Billy was our guy. Nancy said right away, 'You are going to end up loving the combination of athletics and music in figure skating.'
Most significantly because of Scott Hamilton, the figure skating community just opened its arms.
AH: Verne, you are a Steamboat guy, and Steamboat is an Olympic town. Do you have any moments related to Steamboat athletes at the Olympics?
VL: Oh sure. One of my favorite memories - I've told Todd Lodwick this - was the Nordic combined team event in Norway. We were in Hamar, so we were 40 miles south of Lillehammer. We are watching Norwegian television, which is an interesting experience. They take a very casual approach to what they are doing. All of a sudden, he's announcing the U.S. Nordic combined team. All four guys were from Steamboat Springs. Nancy and I are in our hotel room, it's 25 below zero, and it was every day. We watched our (Steamboat) kids - it was just so neat.
AH: Favorite recreational activity in Steamboat?
VL: I would say playing golf at Catamount or Sheraton. I say that with the full knowledge that the people at Catamount are going to go, 'What's he talking about? He didn't play all summer.' There is a little bit of irony in that answer. We were gone most of the summer. We will not do it again. We were gone all of May and July. And our favorite thing to do is anything involving Strings and the Mountains in the summer.
AH: Favorite restaurant?
VL: Cafe Diva. That would be No. 1 probably for us. Wait, Nancy is hollering at me. (Speaking to Nancy) What honey?
Nancy Lundquist: Three Peaks
VL: Yeah, Three Peaks. We love the guys there. We've got a variety of them. We like Cottonwood Grill, too.
AH: Is it the food or the people there you like?
VL: It's a combination. I've seen Paul grow Cafe Diva. We were there the first year it was a wine bar. I think it's such a lovely intimate place with great service, and the food is always interesting. Three Peaks we knew it as the Chart House and, obviously, they've got a great menu. Jimmy runs it now. It's a combination of the people and the food and the ambiance. On a summer night, if you can get outdoors and it's not raining, the outdoor seating at Cottonwood is about as good as you can get in the city. Now, I'm going to irritate somebody by leaving them off. Riggio's - even with Karen and Dom gone - we like Riggio's a lot.