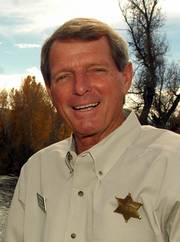 Steamboat Springs — Routt County Sheriff Gary Wall and Undersheriff David Bustos have at least a year to renew their inactive Peace Officer Standards and Training certifications. The men said they will not have a problem meeting the deadline.
Both attended an optional 2007 County Sheriffs of Colorado Conference and Vendor Show in Westminster last week where they attended sessions led by state and federal law enforcement agencies and participated in sheriff and undersheriff training courses. Wall attended a mandatory Sheriff's Institute from Dec. 4 to 15 in Denver.
Wall and Bustos received their POST certification in the 1970s while working as Vail's police chief and assistant police chief respectively.
Their certifications became inactive three years after the men left law enforcement.
Wall said Bustos most likely will attend a two-week, 80-hour "refresher academy" in February to renew his certification. The refresher course also can be taken online through Arapahoe Community College or by skipping the academy and taking the written exam and skills test needed to acquire POST renewal.
Wall and Bustos have one year to obtain their POST certification and can apply for a one-year extension if renewal is not obtained within a year.
"It's not like I am in a hurry to do that. I'll do it when I think that's appropriate," Wall said. "Not having (POST certification renewal) won't hinder my duties in any way."
Wall is required to receive 20 hours of ongoing training throughout the year, which can be satisfied a variety of ways.
County Sheriff's of Colorado offers 126 different training programs to sheriff's offices across the state, which Wall said he likely will take advantage of.
"Certification will not be an issue for me," he said. "There are plenty of options for us all to get plenty of training."
After being sworn in as Routt County's 25th sheriff Tuesday, Wall said he and Bustos are eager to face the challenges in assuming their new roles, including dealing with staffing shortages.
Wall announced he would not renew the commissions of former Undersheriff Dan Taylor, Sgt. Dan Kelliher and Rachelle Redmond, leaving the department down a sergeant and investigator.
"We're short a few in patrol and few in detentions and we're working on that," he said. "I'm certainly not concerned about it."
The cases Taylor, Redmond and Kelliher were working on before being released from the Sheriff's Office will "not go by the wayside," Wall said.
"Those cases will be adequately investigated by the very capable people working at the (Sheriff's Office)," he said. "I will make sure those cases are not dismissed by inappropriate investigation even if I have to do it myself - which I am capable of doing."
Wall, a former private investigator, said his business, Gary Wall & Associates, LLC, is over, but that he will testify in cases he may have done work for in the future.
"I'm an elected official so I can't work for a private entity, but that doesn't mean I won't testify to what I know," he said.
Wall said testifying in a trial is not illegal.
"It has to do with justice and due process," he said. "I have no problem testifying what I know."