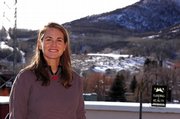 Steamboat Springs — Heather Kline's development plans may be halted tonight at the Oak Creek Town Board meeting.
Kline, who owns Lynx Funding in Oak Creek, and her sister, Jennifer Darling, have proposed building 17 new homes on 24 acres just north of the town. The plan hinges on Oak Creek annexing the property.
However, in light of recent board decisions, Kline's current project and future proposed annexations might not be put on hold until the town can update its comprehensive plan.
The issue will come before the Town Board tonight when the board is scheduled to discuss approving the Darling annexation conceptual plan. The board also is scheduled to hear from Scott Woodford of Patten Associates regarding the annexation.
Woodford was scheduled to make a presentation at the Oct. 12 Town Board meeting on the town's behalf to share his findings, though Woodford was not given an opportunity to speak because the board continued the hearing to tonight.
At the Dec. 28 Town Board meeting, the board agreed to discuss updating the town's outdated comprehensive plan before approving more annexation as a means to protect the town and ensure the town is growing appropriately and in accordance with resident wishes.
Although she is concerned her project may be put on hold, Kline is supportive of the town updating its plan to address future growth.
"I'm not feeling like they're shutting the door, I feel like they're saying 'Hold on,'" she said Wednesday. "It's understandable what the town needs to do. It's the right thing to do."
Town Clerk Karen Halterman said the town has several options at its meeting tonight including approving the annexation, putting it on hold or denying it.
In other action, the Town Board is scheduled to:
- Hear from Mike Yurich regarding the town's centennial celebration.
- Hear from Realtor Eric Steinberg about a future annexation into Oak Creek.
- Discuss updating the process of what it takes for town residents to become eligible for senior citizen water rates.
- Discuss unpaid resident utility bills.
- Approve a Routt County Economic Development Council memorandum of understanding.
- Hear updates on the Hageman lease and Petranovich lawsuit.