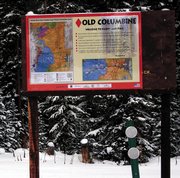 Steamboat Springs — Backcountry skiers and snowmobilers on Rabbit Ears Pass may have noticed new, brightly colored signs at trailheads in the past month.
The large maps and trail guides that provide updated labels for recreation areas including Fox Curve, Dumont and West Summit are the work of Friends of the Routt Backcountry, a local nonprofit organization with about 70 members that is affiliated with the Backcountry Snowsports Alliance of Eldorado Springs. Both groups work to preserve and manage non-motorized areas on public lands. Steamboat Springs resident and Routt Backcountry member Leslie Lovejoy said the signs are part of a project that began in 1998, when the group began working to identify non-motorized and motorized portions of local recreation areas including Rabbit Ears, Buffalo Pass and Hahn's Peak.
The signs are funded by a $10,000 grant from the city of Steamboat Springs, as an allocation of city funds donated by American Skiing Co., currently the parent company of Steamboat Ski Area.
Lovejoy, a graphic designer, said work to install the eight signs began in December. She designed the signs, which have an orange border for motorized areas and a blue border for non-motorized areas in addition to maps of the Routt National Forest and a list of backcountry use regulations. Local artist Gigi Walker also contributed to the signs' artwork.
The signs designate trails identified in the Routt Winter Travel Management Plan, created by the United States Forest Service and implemented in July 2005.
Lovejoy said despite the non-motorized mission of Friends of the Routt Backcountry, she is eager to continue working with local snowmobiling groups, such as Routt Powder Riders, to improve local backcountry recreation.
"I'm so tired of us being conflicting," Lovejoy said. "I would love to work with the motorized community on this project."
Lovejoy said a recent $3,750 grant from the Yampa Valley Community Foundation will fund permanent non-motorized boundary signs for the Rabbit Ears area, and she also hopes to add improved, detailed trail maps to the new signs at Rabbit Ears trailheads.
Those interested in helping with Friends of the Routt Backcountry activities can contact Lovejoy at 879-8710 or Rose Caslar at 734-8281.