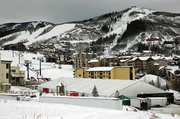 Steamboat Springs — A new location is being scoured for a venue to host the concerts going on at the base of the Steamboat Ski Area.
Construction on One Steamboat Place will likely start this year in the area used as the lower gondola parking lot next to the gondola building. A large tent that can hold 1,700 people is set up in the lot to host the sold-out MusicFest and the Ski Jam concert series' held annually in Steamboat. The Steamboat Ski and Resort Corp. is not counting on that location for next January's concerts, which play a crucial role in driving traffic to Steamboat and the ski area.
"From a business perspective, we've been able to use that as a campaign for driving some business during what is usually a low demand time," said Andy Wirth, Ski Corp. vice president of sales and marketing.
The concerts, which are geared toward the college-aged crowd, also meet Ski Corp's long-term strategic objectives of building a base of new customers who will return to Steamboat to vacation in the future, Wirth said. The more than 3,500 people attending the MusicFest concerts are also important to January sales tax revenues.
Wirth said he is confident a solution can be found for next year's concerts. A plan must be developed in the next three or four months before committing to hosting next year's concerts, he said.
"There are other places where we could locate a tent of this size," Wirth said.
One of the possibilities that have been brought up in the past is to host the concerts at the Tennis Center at Steamboat Springs, Wirth said. The facility is owned by the city, but is managed by someone else.
"There will be some involved and detailed conversations," Wirth said.
The discussions between the city and Ski Corp. are just beginning.
"The council has not even talked about it," said Deputy City Manager Wendy DuBord.
There are a lot of details that would have to be worked out, and making the Tennis Center suitable as a venue space would be expensive. It is not clear what changes would have to be made. DuBord said at the very least, 20 to 30 doors would have to be added and sprinklers installed. It could cost $500,000, she said, and it is unknown who would pay for it.
"It's not out of the realm of possibility if everyone agreed they wanted to do it and wanted to pay for it," DuBord said. "That's what we do is respond to requests and ideas. Anything is possible given the will and the money."
An agreement with the operator of the Tennis Center, Jim Swiggart, would also have to be worked out for the times the facility is used for concerts rather than tennis.
There also is the possibility of using another parking lot to set up the concert tent, Wirth said.
"Displacement of parking spaces will definitely be one of the key points of consideration," he said.
John Dickson is the organizer of the MusicFest and Ski Jam concerts. He said he hopes a solution can be found.
"Everybody asks why we come to Steamboat and my answer is always that the people are so genuine and nice," Dickson said. "We want to come back as long as the logistics work."