Follow the leaders
A list of recent presidents, and president pro-tems, of the Steamboat Springs City Council.
Jan. 2007 - current
President: Susan Dellinger
Pro-tem: Steve Ivancie
Nov. 2005- Jan. '07
President: Ken Brenner
Pro-tem: Susan Dellinger
Nov. 2003 Nov. '05
President: Paul Strong
Pro-tem: Loui Antonucci
Nov. 2001 Nov. '03
President: Kathy Connell
Pro-tem: Paul Strong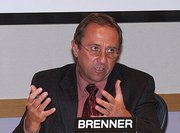 Steamboat Springs — Members of the Steamboat Springs City Council said Wednesday that while they feel Ken Brenner's decision to step down as council president is "healthy" and "the right thing," they did not try to influence Brenner's decision before it was made.
Brenner, who will remain a City Council member, announced Tuesday night that he was giving up his role as council president. In addition to physical and mental strains from recent shoulder and back surgeries and an arduous schedule of council-related events, Brenner said maintaining neutrality while facilitating council meetings was his biggest challenge as president.
Council members said they did not discuss neutrality issues with Brenner before his decision.
"Ken and I don't agree on a lot of things, absolutely, but I would not ask somebody to step down because they don't agree with my beliefs," council member Loui Antonucci said. "I don't think that's healthy, and I think it's good to have dialogue."
"I haven't really had any conversations with him about that," echoed council member Paul Strong. "I think that Ken's statement speaks for itself."
Council member Towny Anderson came closest to acknowledging Brenner's struggle to lead the council while also participating in contentious debates about issues such as city housing policies and requirements for developers.
"I think Ken did the right thing," Anderson said. "His passion, his advocacy can get in the way of high performance (by the council)."
Brenner said he will now be able to make that advocacy more apparent.
"I'm definitely trading off the prestige, or honor, of the presidency in favor of being more political. But I think that's where I'm headed - to be more politically oriented," Brenner said. "There's a lot of important issues that we're working on, and I look forward to being more directly involved in those."
Tuesday night, Brenner took an active role in council discussions about affordable housing creation while new council president Susan Dellinger sat in the middle chair at Centennial Hall.
"You bet I noticed a difference," Brenner said. "I felt much more comfortable making a counterpoint than I would as president. And I woke up (Wednesday) morning and took a big sigh of relief, because it is no longer my job to respond to every request to represent the council. You'd be surprised at the amount of responsibility."
Strong served as council president from November 2003 to November 2005.
"It's a demanding role, and it takes a lot of time away from your normal life," Strong said.
Brenner, who operates Performance Sports Medicine at the Old Town Hot Springs recreation center, has had two recent surgeries, including back surgery less than two weeks ago that placed him in visible pain Tuesday night. He also serves as chairman of the Routt County Democratic Party.
Party officials will elect officers at a meeting next month. Brenner said he hopes to continue serving as chairman. Brenner also said he plans to run for re-election to City Council in November.
"We still have a lot of work to do," he said of the council.
That work will be overseen by Dellinger, who council members praised Wednesday.
"I'm very encouraged," Anderson said of the council's unanimous votes for Dellinger and for Steve Ivancie as the new president pro-tem. "I think Susan acknowledges that when we take on these big issues, we need a moderator and we need to facilitate discussion."
Strong called Dellinger "the natural choice" for council president, but said how she will impact the council's effectiveness remains to be seen.
"We won't know until we see Susan in operation for a while," Strong said. "She listens to everyone, she typically has an open mind on things, but how that will impact how meetings are run, we'll have to see."