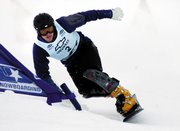 Steamboat Springs — Seven current and former members of the Steamboat Springs Winter Sports Club left for Arosa, Switzerland, on Tuesday to compete in the 2007 Snowboard World Championships.
For local favorite Justin Reiter, the trip is his second appearance at the World Championships. He was a part of the U.S. Team that competed in Whistler, British Columbia in 2005.
"I can still remember stepping into the starting gate," Reiter said. "It was such a cool feeling looking down the course and at all those people. That feeling is a huge motivator this time around."
Reiter, who placed 10th in the parallel slalom and 15th in the parallel giant slalom that year, hopes to break into the top eight this time around.
"I would love to qualify and then make a run in the finals," Reiter said. "Our team is really strong, and I think that we can compete with just about anybody in the world."
Reiter and the other American riders hope a strong showing at this year's World Championships will result in more riders getting the chance to compete at the 2010 Olympic Games in Vancouver.
"Having top finishes at
events like the World Championships helps the U.S. Ski Team justify sending more athletes to the Olympics," Reiter said. "A good showing at the World Championships and a few good World Cup results could get us one or two more spots next time around."
Reiter won't be the only Alpine snowboarder with ties to Steamboat Springs competing at this year's World Championships. Other Steamboat riders include 2006 Olympian Tyler Jewell and Josh Wylie. Wylie qualified because of his results in last weekend's Race to the Cup events in Steamboat and two races earlier this season in Copper Mountain. Erica Muller also made the cut, along with former Winter Sports Club rider Michelle Gorgone, a graduate of The Lowell Whiteman School. Callan Cythlook-Sifsof, who trains with the Steamboat club when she isn't training with the U.S. Team, also was named to the team and will compete in the women's snowboardcross.
"This is a great showing for our program," said Thedo Remmelink, head Alpine snowboard coach for the Winter Sports Club. "It shows that our program is on the right track and is producing athletes that are some of the best in the world."
The U.S. Team will send 27 riders to Switzerland for the event, which is scheduled for Sunday to Jan. 20. Events will include halfpipe, snowboardcross and Alpine parallel slalom and parallel giant slalom.
"It's been a tough year for snow in Europe. Most of our World Cups have been cancelled or postponed, but we've had some great U.S. events and training camps, so I feel like we are coming into the Worlds well prepared," U.S. Snowboarding head coach Peter Foley said.
- To reach John F. Russell, call 871-4209
or e-mail jrussell@steamboatpilot.com