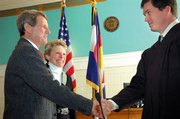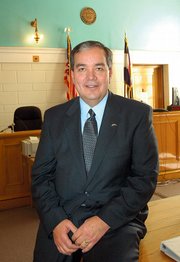 Steamboat Springs — It didn't take long for new Routt County Sheriff Gary Wall to make his presence felt.
On Tuesday, Wall was sworn into office in a crowded Routt County Courthouse courtroom. Also taking the oath of office were new Undersheriff David Bustos, 13 patrol deputies, 15 detention deputies and five Sheriff's Office administrative staff members.
Absent from the ceremony were former Under-sheriff Dan Taylor, Sgt. Dan Kelliher and Investigator Rachelle Red-mond. They were informed Monday there would not be positions for them in Wall's department.
"I have chosen who to give commissions to," Wall said Tuesday. "(Former Sheriff) John Warner gave commissions to people that I will not.
"Any new sheriff is entitled to do whatever he chooses."
That included a swearing-in ceremony separate from the Tuesday morning ceremony for the county's other recently elected officials. Wall said he wanted a separate ceremony so that it would "be special."
"I thought it was wonderful," he said after the lengthy ceremony. "I wanted this to be a special occasion. There's a new sheriff. I wanted them to get a flavor of how I operate."
A diverse group of about 100 people attended the ceremony, including county employees, local attorneys, law enforcement officers and government officials.
During a brief statement, Wall thanked his supporters and told Sheriff's Office employees he looked forward to the future.
"I am very aware of the responsibilities of the office of sheriff. I'm truly honored the citizens of Routt County elected me," he said.
Redmond, who appeared at the ceremony to support her former colleagues, said she was informed of Wall's decision at about 2 p.m. Monday.
"It certainly didn't leave a lot of time for me to prepare the cases I was in the middle of, but I did the best I could (Tuesday) morning," she said.
Redmond, a 16-year Sheriff's Office employee, said she had been preparing for a transition since Wall's election. Redmond would have been undersheriff if Republican sheriff candidate Garrett Wiggins had been elected by voters Nov. 7.
"Whichever way the election went, I knew my position with the Sheriff's Office was going to change," she said. "I just didn't know what Wall had in his mind for me."
Kelliher, who had worked for the Sheriff's Office since March 2001, said he was shocked when he learned he was out of a job.
"I don't know why he made that decision," Kelliher said. "He certainly doesn't have to have a reason. I'm still a little numb.
"My hope is that I can continue my law enforcement career here. I don't know where or how I'll do it, though."
Taylor, a 12-year Sheriff's Office employee, was unavailable for comment Tuesday.
Wall declined to say why he didn't retain certain Sheriff's Office employees.
- To reach Alexis DeLaCruz, call 871-4234
or e-mail adelacruz@steamboatpilot.com