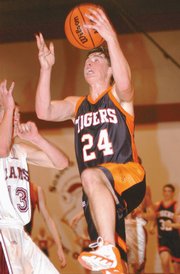 Steamboat Springs — The Soroco boys basketball team looked to have things wrapped up by halftime in its Tuesday night game against Hayden. The team dominated both ends of the court to establish a comfortable 10-point lead at the half.
But a few choice adjustments had the Hayden Tigers right back in a close game that the Rams ended up pulling out in a 49-44 victory.
After a sluggish first quarter where both teams combined for a total of three field goals, the Rams had a 9-0 run sparked by a three-pointer from Bryan Spaeth. Spaeth continued to make steals and created transition scoring opportunities on his way to scoring 10 of his team-leading 24 points in the second quarter.
"We played real well in that second quarter," Soroco coach Sam McLeod said of the lop-sided 19-9 scoring in Soroco's favor.
Hayden point guard Jordan Williams opened the second half with a three-pointer of his own. Creating turnovers and moving the ball up the court, Hayden began a 12-0 run with help from Chuck Hines and a three-pointer from Billy Zehner.
Hayden head coach Shawn Baumgartner "did a good job in the locker room," McLeod said. "They started the night in a lot of half court sets when we were trying to run. Then in the second half, they started running and I slowed down. It took us four minutes to adjust and by that point, they were back in it."
With the game tied at 25, the Rams turned on their inside game, getting the ball to Steven Meade to scrap for some hard-earned baskets. Meade finished with 12 points, five rebounds and five blocks.
The Tigers answered with some inside baskets of their own from Hines, who scored all of his eight points in the third to give Hayden a one-point lead heading into the fourth quarter.
But Soroco's aggressive defense allowed the Rams to regain the lead. Williams, who led Hayden with 19 points, nailed a three-pointer to bring Hayden back within two points, but the combination of costly turnovers and missed rebounds and free throws with Spaeth's ability to capitalize on them caused the game to slip out of Hayden's reach in the final minutes.
"In the second half, we stepped up defensively and that translated into scoring opportunities, but then we settled down," Baumgartner said. "I think we expended a lot of energy in the third quarter to get back in it and kind of ran out of gas."
The win puts Soroco at 2-5 overall and Hayden at 3-4 overall.
Soroco hosts Rangely at 7 p.m. on Friday.
Hayden plays at 7:30 p.m. on Friday at West Grand.
- To reach Dave Shively, call 871-4253
or e-mail dshively@steamboatpilot.com