Search and Rescue on center stage
CNN, NBC to film winter survival, avalanche stories
Wednesday, January 10, 2007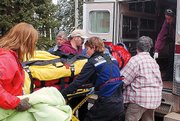 Steamboat Springs — Although they typically work behind the scenes, members of Routt County Search and Rescue are getting ready to take center stage.
Television networks NBC and CNN will feature members of Search and Rescue as well as local adaptive skier Craig Kennedy and the Bridgestone Winter Driving School in a variety of upcoming shows.
Riley Polumbus, spokeswoman for Steamboat Springs Chamber Resort Association and a Search and Rescue member, said the networks wanted to film the group because they already had camera crews in town for the 18th annual Steamboat Weather Summit, a gathering of about 25 meteorologists from some of the largest TV markets in the country.
NBC most likely will film a segment with Routt County Search and Rescue on winter wilderness survival for "The Today Show," which airs from 7 to 10 a.m. during the week. Polumbus said CNN most likely will feature Search and Rescue members in an avalanche awareness story.
"Colorado has really been thrust into the national media lately with the last two snowstorms that came through and the avalanche (last weekend) on Berthoud Pass," Polumbus said.
Search and Rescue member Darrel Levingston said the group planned to meet Tuesday night to discuss where to take the TV crews and what information to provide them.
"We're going to focus on your basic survival skills such as what you should have in your car or how to survive a night outside," Polumbus said. "We'll be teaching them how to build a snow cave (and) what that looks like."
CNN crews were covering the weather summit and became interested in shooting a segment about avalanches, she said.
"It's a place the national media knows they can find reliable to set up these stories," she said. "It's impressive to show the world who we are."
Polumbus did not know when or where crews would be filming, but she offered the following advice for anyone who may bump into them: "Act normal and welcome them to town."
- To reach Alexis DeLaCruz, call 871-4234
or e-mail adelacruz@steamboatpilot.com