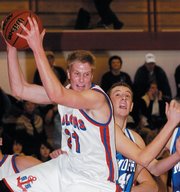 Steamboat Springs — When Steamboat Springs and Moffat County meet on the hardwood it's normally a heated battle that lives up to the two schools' long-standing rivalry.
That wasn't the case Tuesday night.
While Moffat County (2-8,0-3) struggled to hit its shots, Aaron Calkins and a Steamboat Springs offense hit on all cylinders. The Sailors cruised to a 66-34 win against the visiting Bulldogs.
The Sailors (8-3, 3-0) jumped to a 7-0 lead in the first quarter and then put the game away in the third quarter by outscoring the Bulldogs 15-8. Down the stretch Moffat County was forced to rely on long three-point shots in an effort to get back into the game.
"This is a rivalry game, so we expected them to come in playing their best," Steamboat junior Aaron Calkins said. "Normally, the records don't matter. Both teams are going to be ready to go."
But in Tuesday's game, Steamboat's defense held Moffat County's leading scorer, Kaleb McKey, to seven points. J.T. Haddan added six and Clark Clevery and Colton Conrad scored five each.
"Steamboat does a nice job both offensively and defensively. They always seem to be in the right position at the right time," Moffat County coach Scott Parker said. "We didn't shoot the ball well. Some of that is Steamboat playing really good defense. We just have to grow from this and go from here."
On the other side of the court, Steamboat was able to spread its offense. In the first half the team drove to the basket, but in the third quarter the team got hot from the outside.
Calkins led the team with 22 points including five three-pointers. He also had 11 assists and seven rebounds. Michael Vandahl scored 17 points with six assists and eight rebounds. Colby Kostur, Alex Wood and Cameron Peter all had six points. Kostur had six rebounds. Peter and Tanner Stillwell had four assists each.
"We had two guys that really stood out, but this was a team effort," Meek said. "Those guys would not have had success without everyone on the team playing as a unit."
Steamboat faces Delta at home Friday at 7:30 p.m. and Palisade Saturday at 5:30 p.m. Moffat County will play Palisade at 7:30 p.m. Friday and Delta at 5:30 p.m. Saturday.
"It's a huge win for us," Calkins said. "I look forward to this game every year. I look forward to every game. We need to come out like we did in this game, with the same amount of intensity, and just dominate."