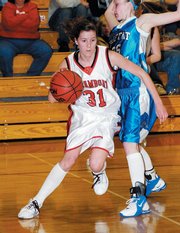 Steamboat Springs — The Steamboat girls basketball team led, 4-0, against Moffat County High School after two minutes of play in Tuesday night's home game.
The good news ended there for Steamboat, as it fell, 55-16.
The loss dropped Steamboat to 0-3 in Western Slope league play and 0-8 overall. MCHS improved to 3-0 in league, 11-1 overall.
"We didn't play bad defensively, we just didn't take care of the basketball," Steamboat coach John Ameen said.
Sailor freshman Colleen King got Steamboat on the board first, and after a couple of missed Moffat County shots, teammate Gracie Stockdale made it a 4-0 ballgame.
Stockdale converted both foul shots to expand the lead to 6-2, but once Moffat County took its first lead, 8-6, the blue-and-white clad visitors never looked back.
"Let's go ladies," Ameen implored his squad after gathering for a timeout with 1:34 remaining in the opening quarter.
Even though junior Emily Stockdale converted 2-of-3 from the free-throw line after being fouled behind the 3-point line toward the end of the first quarter, the Sailors' early 4-0 advantage seemed to be a mirage as they entered the second quarter trailing, 14-8, as Bulldog point guard Angela Charchalis scored 10 of her game high 26 points in the frame.
After MCHS reeled off a 4-0 run to expand its lead to 18-8, Ameen stomped his feet on the sidelines and called a timeout with 5:08 until halftime.
Junior Lizzie Stoll got in the scorebook with a 1-for-2 performance from the free-throw line, but the 21-9 deficit would prove to be insurmountable.
Gracie Stockdale added the team's lone hoop in the quarter, but the MCHS offensive onslaught was in full swing with a commanding 29-11 halftime advantage.
"They are pretty solid defensively," Ameen lamented. "We seemed to be out of our offensive rhythm possession after possession."
Senior Shannon King, the lone returning varsity member on the 2006-07 squad, registered the Sailors only points in the third quarter with a hoop.
Halfway through the quarter, the Sailors trailed 37-13.
Colleen King scored the second of her two baskets on the night three minutes into the final quarter, but the Sailors trailed, 41-15.
After a handful of turnovers that resulted in easy hoops for the Bulldogs, Stoll made 1-of-2 free throws toward the end of the one-sided contest for a 53-16 score.
"I thought we started off pretty good, but I don't know what happened after that," Colleen King said. "At the beginning we had lots of opportunities, but then we just got frazzled. I am looking forward to playing them in their own gym. Craig is a fun place."
Ameen said his team usually gets off to a slow start, which made the 4-0 beginning a mild surprise.
"For some reason we always seem to get away from our offensive system, he said."