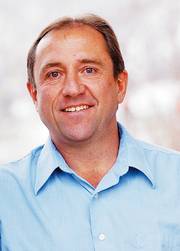 Steamboat Springs — Susan Dellinger is the new Steamboat Springs City Council president.
Council member Ken Brenner, who has served as council president since November 2005, stepped down from the role Tuesday night, citing physical and mental strains from recent surgeries and a job that requires managing lengthy council meetings and facilitating discussion of contentious issues.
"The job of president requires a great deal of time for many different jobs including working with staff preparing for our meetings. I feel that time has diluted my overall effectiveness (on the council)," Brenner read from a prepared statement at the beginning of Tuesday's meeting. "Also, I am expected to maintain neutrality and speak only as a voice of consensus. I have struggled with neutrality; it is my biggest challenge."
During the council's recent series of work sessions to revise Steamboat's affordable housing policies - a process which continued Tuesday night, with much discussion but little tangible progress - Brenner has been an outspoken advocate for housing policies, such as increased requirements for commercial developers that other council members have said could hurt local business growth.
"I want to spend 100 percent of my time advocating for these issues," said Brenner, who will continue serving on the council. "But I think the primary role of the council president is to try and facilitate objectively, without trying to lead the discussion one way or another."
Dellinger said Tuesday that she is ready to take on that role.
"One of my goals is to improve the decision-making process overall, so that we can be more concise as a council," said Dellinger, who has served as the council's president pro-tem since November 2005.
The council unanimously elected Dellinger its new president, and council member Steve Ivancie as the new president pro-tem.
"It's a surprise to me," Ivancie said of the shuffling.
Dellinger acknowledged that her goal to improve the council's decision-making is somewhat ironic in light of Tuesday's meeting, which included lengthy discussions that caused housing consultant Melanie Rees to warn the council of excessive inaction and "analysis paralysis."
"That's where I see you heading tonight," Rees told the council. "You're getting too complicated."
Much of the debate involved commercial "linkage," a housing tool that would require commercial developers to provide housing for a percentage of the employees created by their new development. Council members disagreed on what that percentage, or "mitigation rate," should be.
While Rees said that Aspen's Pitkin County has successfully used a 60 percent rate for several years, and Telluride's San Miguel County uses a 40 percent rate, council members expressed concerns that such a high rate would stall or halt new commercial development. Ivancie proposed a rate of 10 percent.
"I would rather see 25 percent," Dellinger countered. "We can adjust it if we need to, but (Rees) has never seen anyone adjust it."
"I've never seen somebody lower a commercial linkage fee," said Rees, who has helped implement housing policies in several Colorado resort communities.
The council decided to continue working toward a revised housing plan at an upcoming meeting with the Yampa Valley Housing Authority, tentatively scheduled for Jan. 23, and then at a future council work session, possibly in February.
"It seems to me that our next work session should be a discussion of the language of an ordinance," council member Towny Anderson said. "I strongly urge us to keep up this momentum. We're a lot closer than we think."