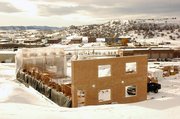 Steamboat Springs — A draft ordinance to amend Steamboat's housing policies includes many ideas but few specifics - for now.
Prepared by Crested Butte-based housing consultant Melanie Rees and staff from Boulder consulting firm RRC Associates, the draft ordinance is an outline of possible amendments to the city's affordable housing policies and describes several funding tools that, if implemented, would increase requirements for developers and boost affordable housing resources in Steamboat Springs.
But the draft ordinance does not yet include the numbers behind the concepts - for example, exactly how much housing construction or financial payments to require of commercial developers.
The Steamboat Springs City Council will attempt to decide on details tonight during its third formal work session with Rees. The council is conducting the work sessions to create a new, comprehensive affordable housing plan for the city.
"Filling in some of those blanks will hopefully be one of the outcomes of this meeting," Rees said Monday.
Rees said one blank that needs filling involves commercial "linkage," a housing tool that would require commercial developers to provide housing for a percentage of the employees created by their new development.
Tonight, the City Council is scheduled to again discuss the amount of that percentage, a number also known as the "mitigation rate."
"I don't have a sense of where that mitigation rate is going to fall," Rees said. "I don't believe a consensus has been formed."
Rees has shown the council statistics that state a new 20,000-square-foot building - similar in size to the Sports Authority in Steamboat - would create about 56 new jobs and thus a need for about 26 new housing units.
Requiring the developer to supply 15 percent of those housing units, Rees said, translates to four affordable housing units, or a fee in lieu of $717,822.
On Dec. 12, council members agreed to look at commercial linkage policies with a mitigation rate between 5 and 15 percent, but they have disagreed about the potential effects to local commercial growth.
Rees has helped several resort communities implement housing policies. She said the City Council's debate in Steamboat has been an expected - and warranted - part of the process.
"They're a very knowledgeable and organized group," she said about the council. "I've seen a very consolidated timeline - when we put linkage into inclusionary zoning policies in Sun Valley in a matter of weeks, and that's in comparison to Gunnison County, where it was a matter of years."
Any linkage policy adopted by the city would only apply to new construction. Rees has estimated that Steamboat needs 400 to 500 new residences to catch up with the housing demand created by job growth. To then keep up with continuing demand, Rees said, about 100 new homes could be needed per year in the future.
"I feel that the pace is a good pace," Rees said about the council's work to create a housing plan. "I hope they don't feel too rushed."