Past Event
Wednesday, January 10, 2007, 5 p.m. to 7 p.m.
(One-off place), Chicago, IL
All ages / Free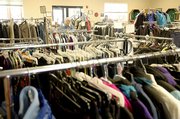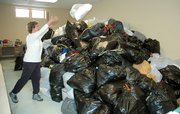 Steamboat Springs — LIFT-UP of Routt County has a new building and more space, but one thing certainly will never change as the non-profit organization continues to grow.
"No matter where we are, we're always going to have a big pile in the donation center, but there is a lot more space to deal with it now," said David Freseman, LIFT-UP executive director.
Inside the bags are clothes and other items donated to LIFT-UP to be sold in the thrift store.
"Our generous donors sometimes leave money in the pockets when they drop their clothes off," said LIFT-UP assistant manager Nancy Mayer.
LIFT-UP moved its Steamboat food bank, thrift store and donation center into the new Lufkin LIFT-UP Center at 2125 Curve Court in early December.
"We're still kind of fine tuning a lot of things and finding out how we want to do certain things, but we feel like we're functioning pretty well," Freseman said.
LIFT-UP will hold a dedication, ribbon cutting and open house for all community members from 5 to 7 p.m. Wednesday. LIFT-UP board president Tim Selby will dedicate the building at 5 p.m. That will be followed by an open house where refreshments will be served.
Freseman said the response from the community to the building has been outstanding.
"I think it's beautiful," said Steamboat Springs resident Bennie Goodman, who was at the thrift store Friday looking for bargains. "It's so nice and clean and new, and they're showing everything beautifully."
Initially Freseman said he had some concerns that the building would be difficult for people to find and get to. That did not end up being a problem. The building is near the bus route and there is plenty of parking.
"I know from observing that the thrift store sales have increased already in the one month since we opened," Freseman said. "I thought it would take longer for that to happen."
Proceeds from the thrift store go to pay for operations and last year, $35,000 of the proceeds was used to support the food bank.
To get to the new center, turn off U.S. Highway 40 at Cook Chevrolet and proceed straight for one and a half blocks.
The thrift store is open Monday through Friday from 10 a.m. to 5:30 p.m. and on Saturday from 10 a.m. to 4 p.m. The food bank is open Monday through Friday from 1 to 5 p.m. Donations for the thrift store can be dropped off from 10 a.m. to 3 p.m.
"As time goes on, we'll have to see if we need to make any adjustments," Freseman said. "We know we're going to need more volunteers especially in the donation center."
The new 8,300-square-foot building is twice as large as the space LIFT-UP used at three separate Steamboat locations.
LIFT-UP's Hayden and South Routt locations are still open.
The total budget for the building was about $1.3 million. A local fund drive raised nearly half the money. A $285,000 Community Development Block Grant from the Department of Local Affairs was used to purchase the land. Grants from the Gates Family Foundation, The Daniel Foundation, Adolph Coors Foundation and the Boettcher Foundation contributed $380,000. Construction of the building started in March and final costs were about $136 per square foot, Freseman said.
In 2005, LIFT-UP had 3,239 client visits. The organization provides emergency assistance, including food, clothing, lodging, fuel, transportation, prescription medications, rent, mentoring programs and referrals to low-income residents.
"We've given out a ton of assistance, food and otherwise since we've moved in," Freseman said.
With the building complete, LIFT-UP can focus on serving other community needs.
"We want to work on transitional housing for people who struggle to find a place to stay as they transition from one place to another," Freseman said.