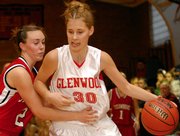 Glenwood Springs — The Demons couldn't hit many shots and neither could the Sailors.
Unfortunately for the Steamboat Springs girls basketball team, Sharaya Selsor, Natasha Derby and Kelsie Hert sunk enough to give the Demons a 36-24 win over Steamboat Springs in a Class 4A Western Slope League match-up Saturday night.
Both teams were ice cold from the paint to the perimeter and everywhere in between. After the Sailors scored in the first minute, the game went on a four-minute scoring drought before Selsor hit a layup.
The bucket jump-started a 9-0 run for Glenwood (1-1 WSL, 7-3 overall), including six more points from Selsor, who finished the game with 14 points, and a 3-pointer from Derby to put the Demons up 11-2 at the end of the first quarter. The Demons compiled another 9-0 streak to take a 21-9 lead at halftime.
After a tough, physical, heart-breaking, 43-41 loss at Moffat County on Friday night, Glenwood head coach Bryan Derby gave his starters a rest for large chunks of Saturday's game, including center Sam Ciani who totaled less than eight minutes of play in the contest.
That left most of the second half up to the Demons' young bench players. Derby scored eight points, Hert added eight and Laura Young stepped up to chip in four more.
"We are trying to get the younger players some experience, see what happens. The other girls, the five (starters on Friday), they worked their tails of last night. I was trying to give them a break," said Coach Derby. "I hope they get some experience and learn that patience is a big part of our offense."
In the fourth quarter, Steamboat (0-2 WSL, 08 overall) took advantage of Glenwood's inexperience and outscored the Demons 10-4. Gracie Stockdale finished the game with seven points, while Lizzie Stoll and Emily Stockdale each added five.
Steamboat head coach John Ameen was proud of his teams' limited turnovers as the Sailors only turned the ball over 15 times - the same as Glenwood.
"We took care of the ball so much better and that's why we were able to stay with this team, and they are a good team," he said.
Glenwood's defense, combined with the Sailors shots not falling, held Steamboat to two points in the first quarter, seven in the second and five in the third.
"Shots weren't falling, but that happens," said Natasha Derby. "But I think our defense kept us in this game."
Glenwood will be back on the court Tuesday to play rival Rifle at 7:30 p.m.