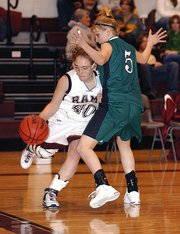 Oak Creek — Soroco coach Danelle Rivera said the girls on her basketball team were looking forward to their first district game on Saturday against an 8-0 Plateau Valley team - so much so they requested to get back in the gym and start practicing a day before she had scheduled.
Unfortunately, the Plateau Valley girls came into Saturday's game ready to play and ran an aggressive full-court press that immediately caused problems for Soroco.
The Cowboys won, 70-39.
"The press was a surprise because they didn't come out with one in De Beque," Soroco junior point guard Glenda Long said of the Rams' first meeting with the Cowboys at a Dec. 1 tournament. "We let them get in our heads."
The Cowboys jumped out to a 12-0 lead before Long managed to find a few breaks in the press in transition to put the Rams on the board.
"They broke our press several times and beat us down the floor," Plateau Valley coach Toni Gunther said. "They're working hard for their coach and getting more competitive each season."
But with each Soroco attempt to move the ball up the court, Plateau Valley answered with more steals and methodical ball movement on offense to put the Cowboys up 43-19 at the half.
In the third quarter, Soroco only managed a pair of field goals as Plateau Valley's Jami Smith continued making steals, converting in transition and finding Tarina Schuman on the inside. Smith finished with seven steals and 25 points and Schuman added 18.
The spark of life the Rams showed in the fourth quarter, their highest scoring of the game, illustrated the mental toughness Rivera believes her team possesses.
"We have strong girls that keep everyone going and have the attitudes to get back in it," Long said.
Although her team lost by 31, Rivera was pleased to see the strides the girls have made since their last game. Twice as many players scored in this game.
"That's exactly what we need - everyone needs to be a threat," Rivera said.
Kelsey Samuelson led the way for the Rams with 12 points, Sarajane Rossi had 10 and Long added nine. Bailey Carrell grabbed seven rebounds.
The Rams are 3-4 overall.
Soroco hosts rival Hayden at 5:30 p.m. Tuesday.
- To reach Dave Shively, call 871-4253 or e-mail dshively@steamboatpilot.com