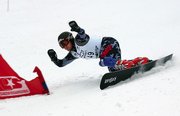 Steamboat Springs — Marne Roberts might just have earned herself a trip to Europe.
"She's my good luck charm," said Tyler Jewell, who trains in Steamboat and cruised to a victory at the men's parallel giant slalom division of the Race to the Cup on Saturday at Howelsen Hill. "She'll have to come to all of my races. I am flying her to Europe," he said of the family friend.
A day after finishing fourth in the parallel slalom event Friday, Jewell dominated the first three rounds of competition before getting to the finals against Canadian Philippe Berube.
In the first run of the finals, Berube, who has trained with the Steamboat Springs Winter Sports Club, jumped out to a 0.192-second advantage and seemingly had the advantage in the second run when Jewell slipped toward the top of the course.
But Jewell, a member of the U.S. Snowboard Team who is leaving today to train for the World Championships in Switzerland, attacked the lower section of the course, making up the difference.
"It's just going for it every run," Jewell said. "It's something that I have been working at, and I think I accomplished that (Saturday). It's pretty cool to put the pedal to the medal."
Canada's Matthew Morison finished third for the second straight day, and Joshua Wiley finished fourth.
On the women's side, the top spot had a Canadian flavor for the second time in as many days.
After teammate Christelle Doyon finished first in the slalom Friday, fellow Canadian Alexa Loo took the top spot in the giant slalom Saturday.
Loo, who finished fifth in the slalom, credited her aggressiveness for the win. On Friday, Loo had the full penalty advantage going into a second run and said her hesitance to go hard cost her a spot in the top four.
"The difference today was me just being a little more on it - never holding back," Loo said. "(Saturday) it was just a matter of staying super focused and staying in the game."
Former Steamboat Springs Winter Sports Club member Michelle Gorgone finished second, Stacia Hookom finished third, and Caroline Calve finished fourth.