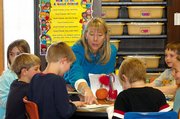 Steamboat Springs — Substitute teachers are a necessity, not a luxury.
Unfortunately, Routt County's three school districts frequently pull from the same pool of substitutes, and in a rural area such as Northwest Colorado, quality substitutes aren't pounding down administrators' doors.
"We are always tight for substitutes," South Routt Superintendent Kelly Reed said. "The sub situation is such that when you share a teaching pool such as we do in Routt County, there are certain times when it's difficult to get people to come in."
For example, a teacher workshop might be scheduled, which teachers from all three districts attend. When that happens, all three districts need substitute teachers.
Fortunately, those workshops are scheduled ahead of time, and plans can be made.
When a bout of flu unexpectedly hits a school, it can affect teachers or their children, leaving a classroom without its teacher in both cases.
"It seems like, with the amount of staff we have, we have several teachers with small kids who are sick without plans," said Rhonda Sweetser, building administrator at Hayden Valley Elementary School.
Jury duty and family emergencies such as funerals are other reasons districts seek substitutes, and substitute teachers are not always available.
Steamboat Springs took a step toward alleviating its substitute teacher shortage in October by increasing pay for certified substitute teachers by more than $20 a day.
Certified substitutes are now paid $110 per day in Steamboat. Teachers with one-year substitute authorization receive $90 a day. The pay is higher if substitutes are needed for prolonged periods of time.
Certified substitutes are those with a bachelor's degree or beyond. They can receive a three- or five-year license.
Teachers with one-year authorizations need to have only a high school diploma.
"The School Board acted to raise pay substantially for licensed staff," Strawberry Park Elementary School Principal Mark MacHale said. "Since then, we have had many more people express an interest in working with us. We could still use more subs, but we are in a much better place than we were before."
In Hayden, substitute teachers are paid $85 per day.
In South Routt, substitute teachers are paid $11.60 per hour, which works out to about $87 per day.
The South Routt School District has tried to make locating substitute teachers easier for the district and for the teachers by moving to a computerized system, which notifies substitutes of needed dates ahead of time.
"It's a really nice system, and it works out really well," Reed said.
All substitutes for the three Routt County public school systems must receive a license or certification from the Colorado Department of Education, which includes an application, a background check and fingerprint processing.
The expense of being a substitute can cost upwards of $100 the first year, but most fees are one-time expenditures, said Dina Murray, business administrator with South Routt.
- To reach Melinda Mawdsley, call 871-4208 or e-mail mmawdsley@steamboatpilot.com