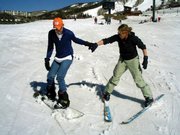 Steamboat Springs — For Steamboat Springs resident Chris Martinez, the smile on his skiing partner's face while coming down Preview ski run makes the entire day worthwhile.
"The biggest thing I get out of it is that smile or the smile my partner's parents have on their faces at the end of the day," he said. "That's the biggest reward."
Martinez is one of about 100 people who ski, snowboard or snowshoe with clients with mental and developmental disabilities through Horizons Specialized Services. Steamboat Ski and Resort Corp. and the Steamboat Ski and Snowboard School work with Horizons to make winter sports available to its clients.
The program, which allows youth and adult clients to enjoy winter recreation, began 31 years ago. Last year, 92 volunteers and eight ski and snowboard instructors worked with 38 Horizons clients from mid-January to March.
There can never be too many instructors willing to share their knowledge and passion for the outdoors with a Horizons client, volunteer coordinator Bette Carlson said.
"It's such a great program," she said. "People are really good about getting involved."
She said many volunteers work with clients year after year, spending seven Saturdays a winter with the Horizons clients.
Carlson said volunteers interested in working with clients must attend a training session from Jan. 19 to 21. Interested volunteers should contact Carlson by Friday to receive a registration form for the weekend training session, she said.
The class is taught by instructors certified by Professional Ski Instructors of America. Volunteers will learn various sit-down and stand-up adapted techniques for assisting skiers and snowboarders who have special needs, Carlson said.
The first say of skiing will be from 1:30 to 4 p.m. Jan. 27 and will continue most Saturdays until March. Volunteers working with Horizons clients will receive complimentary lift tickets to the Steamboat Ski Area for participating in the program, she said.
Volunteers need to be intermediate to advanced skiers or snowboarders and will be paired with a client depending on his or her level of need, Carlson said.
"About one-third of our clients can ski independently, but some do need tethers or use bi-skis," she said. "One volunteer may be paired with one skier, or several volunteers may be needed to work with one client."
For the clients who cannot ski or snowboard, there is the option of snowshoeing, which was added to the program last year and was very popular with about eight clients, Carlson said.
She said many volunteers end up developing special, long-lasting relationships with clients after skiing. Some, like Martinez, volunteer with Horizons throughout the year by swimming with clients during the summer.
"I don't know if my partner always remembers me when he sees me around town, but when we get on the slopes, what comes back is the joy of getting to do something," he said. "I can see the thrill of it all on his face."
Martinez said he constantly recommends the program to people and would encourage anyone thinking about getting involved to do it.
"It's a phenomenal program," he said. "I wish I would have been a part of it way back when it first started in the '70s."
For more information or to receive a registration form, call Carlson at 879-4466, ext. 111.
Liz Leipold, who has directed the Horizons Specialized Services Ski and Snowboard Program since its inception, was not unavailable for comment Saturday afternoon.