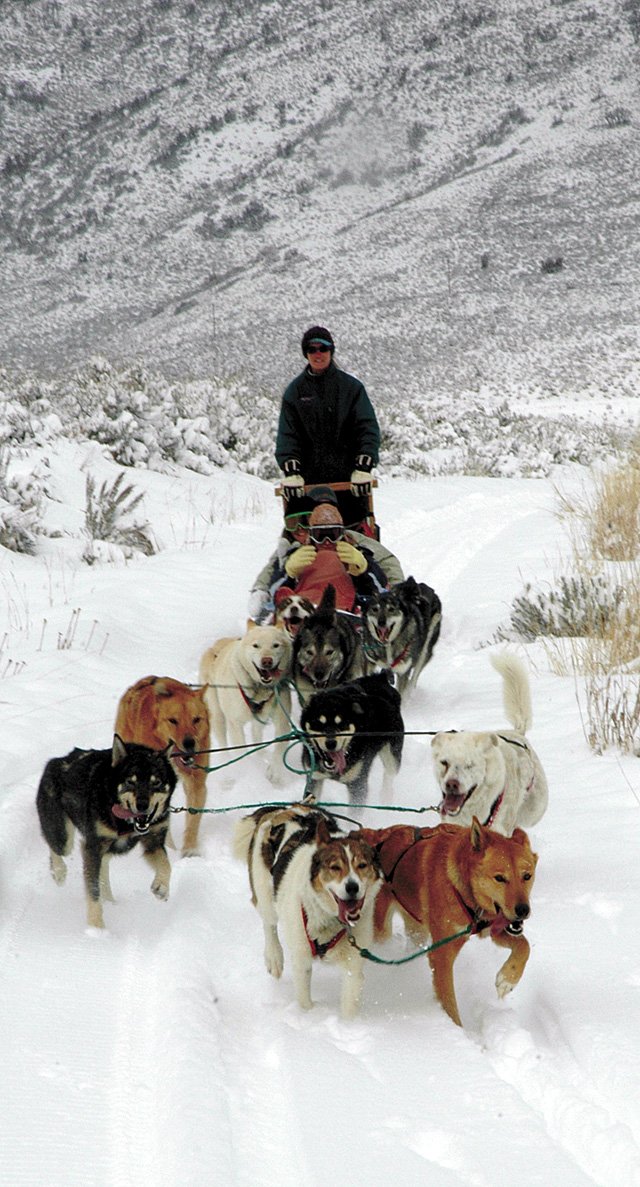 Going to the dogs
Local dog sledding fanatics harness canine power for backcountry thrills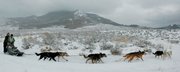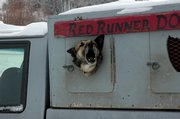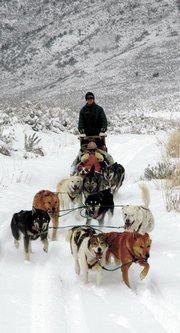 Steamboat Springs — Carol Bloodworth jokes that she's "totally going to the dogs."
Bloodworth approached Jeff Ulsamer in 1989 to help her train a wolf/malamute mix named Sarah. Ulsamer, one of Routt County's original commercial dog sledders, started raising and leading tours up the Spring Creek drainage with Alaskan Huskies in the mid-1970s.
As Bloodworth trained her dog with Ulsamer's pack of 42 sled dogs, she became hooked on working with the animals.
"These guys love to run," Bloodworth said of the dogs. "You're just harnessing their natural energy."
Bloodworth began acquiring more dogs from Ulsamer's line, and she started Red Runner Dog Sled Tours with trips up Emerald Mountain when Ulsamer moved his operation to Whitefish, Mont.
Now Bloodworth is in her ninth winter running commercial dog-sled tours as well as a boarding kennel (Red Rover Resort) in Milner.
"It's 24-hour, round-the-clock care, feeding and attention," Bloodworth said. "But it's not a job, it's a passion."
Mushing and driving
On a Friday morning half-day tour, Bloodworth and guide Daryl Gruet arrive at a small cabin near the south side of Stagecoach Reservoir. They begin outlining how they will divide the dogs into a pair of teams to take a group visiting from Australia on a tour along the Elk Run Trail that forms the south boundary of Stagecoach State Park.
Gruet lays out the equipment as he explains to the group how the dogs will be aligned. As he shows the freight sled's braking mechanism, he highlights the golden rule of dog sledding: "Never let go of the team, never let go of the sled."
Gruet explains that the strongest, biggest dogs should be in the wheel position to help round turns. The team dogs are in the middle of the pack, and the point, or swing, dogs are in the second position from the front. The lead dogs are at the front of the team. Gruet wants the hardest, fastest driving dog in the lead.
Carmen, Gruet's lead dog, is constantly barking to make her presence known to all.
"She's the only one that thinks she's (an alpha)," Gruet says as he positions his eight dogs near their spots on the line. "From a psychological perspective, we want the dogs to think we're the alpha - the pack leader, driver and musher. (The mushers) are almost more like coaches."
Bloodworth's lead dog, Lucy, is a little more reserved, brought from an Iditarod kennel in Alaska. She will be pulling a 10-dog team to help break through the new-fallen snow.
Once clipped to the line, the harnessed dogs work themselves into such a fervor, jumping and yelping, that the guides must anchor the lines.
Set to go, the guides unclip the anchors and the dogs are off, pulling the sleds at about 20 miles an hour through the fresh snow.
Ready to race
Bloodworth's dogs are well-conditioned after pulling a 300-pound sled twice a day, six days a week. She says her dogs prepared to compete in mid-distance and sprint races across the region.
Other locals, such as Jarle Halsnes, are preparing for the season of upcoming sled-dog races, too. Halsnes, a native of Sauda, Norway, is a former Olympian and professional ski racer who said that he is now looking to begin a second competitive career as he approaches his 50th birthday.
"It's really to compete," Halsnes said of his kennel of dogs, which was originally meant for his 13-year-old daughter Krista's sled-dog team, but has now grown to more than 20 dogs. "Suddenly we're getting these dogs, and you can't just pet them, so I decided to train hard and race myself."
Halsnes started his rigorous training in September by attaching his teams to an ATV. With the snow, he can run his 12-dog team on an 86-mile North Routt loop from Columbine to Encampment and back. With more than 1,300 miles on the dogs, Halsnes has his sights set on the International Pedigree Stage Stop Sled Dog Race. The six-day, 300-mile race at the end of January runs from Jackson, Wyo., to Park City, Utah. If that goes well, he plans to head up to Montana's Race to the Sky, a 350-mile race that serves as an Iditarod qualifier.
"I know we have fantastic dogs," Halsnes said. "It's time to see if the musher is as good as the dogs."
For now, Halsnes stays busy picking the brains of legendary Norwegian sled-dog racers and veteran local racers such as Oak Creek's Tom Thurston. Plus, he is constantly going on training rides with Krista, who is preparing for shorter sprint events with her four-dog team.
Kris Hoffman is not surprised that the Yampa Valley's winter weather breeds such avid racers. Hoffman, the owner of Grizzle-T Dog & Sled Works, has seen potential riders become hooked after the half-day trips he offers at a private ranch outside Milner. The tour lets guests mush their own sleds. Hoffman took over the operation from Iditarod veteran Bob Bright in 2002, and he now has 80 dogs that he divides into eight-dog teams. One of Grizzle-T's guests, Buena Vista's Lachlan Clarke, devoted himself to the sport after a 2002 ride and now works tirelessly to prepare for the 1,131-mile Iditarod, where he placed 63rd last year.
"The longer trips can get addictive," Hoffman said. "It's great to see how excited (the dogs) get about their job and their purpose - it's a chance to get out and do something
different."