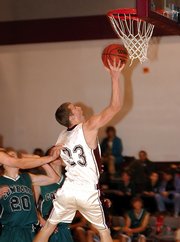 Oak Creek — The Soroco junior varsity won a thrilling 46-44 game Saturday against Plateau Valley. The varsity squad didn't fare nearly as well.
"It's frustrating," senior Bryan Spaeth said after the Rams' 85-49 loss to the Cowboys. "We just threw the ball away. We must have had 20 turnovers. That's 40 points right there."
The Rams' offense was clicking early. Spaeth was able to penetrate and set up freshman Cody Miles on a pair of plays as Miles went on to score eight of the Rams' 10 first-quarter points.
Ahead only four points heading into the second quarter, the Cowboys turned on their offense. They scored seven points in the first minute of the quarter to jump ahead, 21-10, behind the hot hand of D.J. Schuman, who led the Cowboys with 31 points.
A big three-pointer from Johnny DeCosta, Spaeth's ability to penetrate the lane and Soroco's ability to break Plateau Valley's press helped Soroco hang in the game. The Rams were down, 37-25, at halftime.
"I was proud of the first half," Soroco coach Sam McLeod said. "In the second half, we got a little overwhelmed and they didn't let up. That's a fundamentally sound team that executes well and doesn't miss often - they're undefeated for a reason."
Soroco began getting points in the paint from Steven Meade, but could not match the well-rounded scoring from Plateau Valley.
"We started out slow, but finished strong with good team basketball," Plateau Valley coach John Holmes said. "They handled our press well, but we did make some defensive adjustments at halftime."
Spaeth led the way for Soroco with 17 points and seven rebounds. Meade added 11 points and Miles had 10.
Soroco hosts Hayden at 7 p.m. Tuesday.