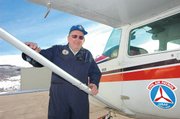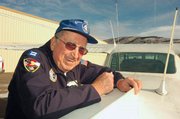 Steamboat Springs — Hayden resident Sam Haslem started his new year's celebration 13,500 feet in the air, hundreds of miles from Routt County.
On Dec. 31, Haslem and Rundy Davenport of Steamboat Springs, both captains, helped the Colorado Wing of the Civil Air Patrol with a massive air search for motorists stranded by an end-of-the-year blizzard that buried southeastern Colorado.
Haslem and Davenport departed from Bob Adams Field early Dec. 31 in the Steamboat Springs Composite Squadron's Cessna Turbo 182, a single-engine aircraft owned by the U.S. Air Force but used by local Civil Air Patrol pilots.
"I threw some clothes in the bag and got all my flight gear, and away we went," Haslem said Wednesday, recalling his eventful Dec. 31. "It was Sunday morning. I was supposed to be an usher at church."
Civil Air Patrol pilots are volunteers and always on call because emergencies aren't written into day planners, which is fine for Haslem, an instructor with the Civil Air Patrol. Haslem paid for his first flying lessons by selling muskrat furs.
Davenport, the local Civil Air Patrol squadron's safety officer, is a retired USAirways captain who now works as an instructor for FedEx jet transport pilots. Davenport was working out-of-state last week.
Haslem was more than able to remember what he and Davenport saw as they circled the skies above the usually dry southeastern Colorado counties of Otero, Las Animas and Baca near the New Mexico, Oklahoma and Kansas borders.
"It was just white," Haslem said.
He and Davenport did not locate any stranded motorists, but the 12 Civil Air Patrol planes that took part in the search did locate two stranded vehicles, numerous commercial trucks stuck in snow, livestock marooned in towering drifts and five people near the Kansas border.
Once the Civil Air Patrol saw people or animals in need of help, the pilots relayed their locations back to Peterson Air Force Base in Colorado Springs. The Colorado National Guard and Colorado State Patrol then made arrangements to assist the stranded by helicopter or vehicles equipped for snow.
"One of the missions of the Civil Air Patrol is search and rescue," said First Lt. Steve Hamilton, a public affairs officer for the Colorado wing of the Civil Air Patrol. "Our volunteer pilots and aircrews from across the state responded to the need. : This was one of the largest missions we've flown this year. We train for this type of operation several times a year, and the CAP stands ready to assist Coloradans in need."
There are 35 Civil Air Patrol squadrons in Colorado, but only four along the Western Slope, including the squadron in Steamboat, which has 28 registered adult members and 13 cadets ages 12 to 18.
The cadet program emphasizes leadership training through self-paced study, formal instruction and weeklong encampments that are usually conducted at Air Force bases, said Jack Dysart, lieutenant colonel in the Civil Air Patrol and commander of the Steamboat squadron.
Routt County Search and Rescue has used the Civil Air Patrol to assist in searches for missing planes and people because Steamboat's Cessna airplane is equipped with good communications equipment and a reliable global positioning system.
"We've had things far flung that require having a radio in the sky to talk from one side of the mountain to the other," said Joe Stevens, a longtime Search and Rescue member and former Civil Air Patrol member. "Having an airplane up there to turn around and relay instructions and commands to the other people in the field has been a great asset."
Both Stevens and Search and Rescue member Darrel Levingston remember using Civil Air Patrol during a recovery mission for a bowhunter who stepped off a cliff and died several years ago on Shield Mountain.
Search and Rescue spent four days trying to find the hunter, using two helicopters simultaneously in the same area. Because two aircraft were flying so close to each other, Civil Air Patrol was asked to coordinate the helicopters' flight patterns so the pilots didn't crash into each other, Levingston said.
"They can get up there really quickly and are very good at what they do," Levingston said.
The Civil Air Patrol search and rescue mission in southeastern Colorado didn't last long, but Haslem said he and Davenport were proud to serve from the skies as part of the state's Civil Air Patrol.
"I felt the Civil Air Patrol responded very well," Haslem said.