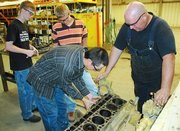 Hayden — The Hayden School District and Hayden Economic Development Council are looking for money to expand Hayden's vocational building and program.
"The EDC is totally committed to getting this done," said Terry Jost, EDC member and president and CEO of Mountain Valley Bank. "We hear from everyone, 'We can't find good help.' We are willing to train them, but we need financial support. In the next two or three weeks, we hope to be sitting down with business leaders throughout the valley and saying, 'We need your help.'"
Hayden Superintendent Mike Luppes said the district is moving ahead with architectural plans to double the size of the current vocational building, which is 8,400 square feet. The current structure near the high school football field, which also serves as a bus barn, is struggling to meet the needs of the growing vocational program.
Steamboat Architectural As-sociates is putting a construction proposal together, but Luppes estimates the project will cost $650,000 to $750,000.
"It may come across that our cost estimates are off, but we think we have played with enough cost figures that we don't anticipate that happening," Luppes said.
Right now, the district is projected to dedicate $100,000 toward the vocational building improvements, but the district also will be seeking money from an Energy Impact Grant during the next grant funding cycle.
The deadline to apply for the Energy Impact Grant, which first must be heard by Routt County commissioners, is Feb. 24. The district likely won't know whether it received a grant from the state until May.
Additional money for the vocational building expansion will have to be raised privately.
"Quite honestly, we would like to have some of the industries who would benefit from this program help out financially," Luppes said. "If there is anyone interested in supporting this, we would love to hear from them."
Consider Wagner Equipment Co. on board "150 percent," Hayden branch manager Jeff Rosendale said.
"We don't look at it as an expense," Rosendale said. "It is an investment. We have a hard time getting workers. Every construction company, every mine is in the same boat. : If we can help out and invest in that, someday we will get a nice pipeline of people coming in and helping us with our industry."
Rosendale estimates at least half of the current employees at Wagner's in Hayden graduated from Yampa Valley high schools, which is a primary reason Wagner's already is working with Hayden schools by teaching and providing supplies for the school's diesel mechanics class.
"We start cultivating future employees and, in our industry, the high school vocational program is where it all starts," Rosendale said. "There are a lot who want to get into this field, and this is a field where you can make a great living."
Although the vocational building will be in Hayden and will be the property of the Hayden School District, the EDC won't be fundraising specifically for Hayden and its students.
"This is for anyone in this area of the state interested in learning a skill and wanting to stay in this valley," Jost said.
Talk of expanding the vocational building has been circulating in the Hayden district for nearly 18 months, Luppes said. In that time, the vocational program has continued to grow in popularity under the guidance of vocational teacher Kevin Kleckler.
"We feel a lot of these programs can open (students') eyes to new careers whether they are college-bound, tech-bound or work force-bound," Luppes said.
There isn't a set timeline to finish construction of an expanded vocational building. The primary focus now is finalizing a proposal, determining a cost and securing financial contributions.
Ideally, construction would begin this summer with the district moving into the new building as soon as next school year - likely in the second semester - which is less than a year away.
"We realize how optimistic that is and how aggressive the timeline is, but we think we can do it," Luppes said.
- To reach Melinda Mawdsley, call 871-4208 or e-mail mmawdsley@steamboatpilot.com